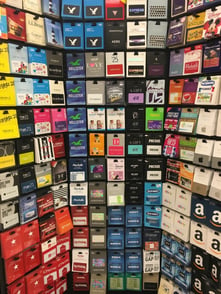 With everything your pharmacy shelving does to enhance your drugstore operations, from organizing work flow in the back-end area to showcasing everything you have to offer in the front-end retailing section, it only makes sense to pay particular attention to its design and placement. Some store owners make the mistake of thinking of their pharmacy shelving as merely incidental to the business. They may not fully realize what an important part shelving plays in influencing the way customers perceive not only their store, but also the level of care and service typically provided there.
Walk into any of the thousands of chain store pharmacy operations and you'll likely see much the same scenario—a sterile-looking environment consisting of bright, fluorescent lighting, linoleum flooring, bright white walls and white-painted, metal pharmacy shelving. But with the reappearance of today's once fast-disappearing independent community drugstores, there's a movement afoot to create a new and unique pharmacy environment that stands apart from what we've come to expect from a typical drugstore.
What's New?
Walking into one of today's well-appointed, modern-fitted independent pharmacies can, in a way, be like stepping back in time. You'll likely be greeted by name if you're a regular customer and receive a level of service that makes you feel comfortable and welcome. The sterility of the cookie-cutter drugstore look has been replaced by a more natural-looking and feeling environment, with less obtrusive lighting; softer hues; natural flooring such as wood, skylights, or large exterior windows providing an infusion of natural lighting; and even some greenery by way of non-flowering foliage.
Another popular feature among today's independent pharmacies harks back to the old days of the neighborhood drugstore/soda fountain. Having a gathering place where customers can meet and greet, take a break and have a soda or cup of coffee can be effective at causing customers to become increasingly comfortable during their shopping experience at your establishment. Moreover, a gathering place gives reason to spend more time in your store, which will normally translate into more dollars spent during their visit.
Pharmacy Shelving Trends
While each of the modern pharmacy features pointed out above are important in helping create a successful independent pharmacy business, no single factor is more important than the style and use of your store's shelving and fixtures. An easy to navigate layout designed with attractive, functional shelving can create a pharmacy environment that will reflect the great care customers can expect to receive in your store.
Some of the newer, exciting options include gondola-type shelves that are both lighter and stronger than old-type gondola and that can be made with curves rather than just straight lines, which can add a unique style to displays. These new gondolas are highly mobile and can be utilized as a means of directing customer traffic throughout the store to unconsciously guide visitors into certain areas. They can also be installed in places where you might otherwise require construction of a wall, helping save on building or remodeling costs.
Another new shelving trend is endcaps that are visible from 270°, allowing for wide-angle viewing of the hot moving items you locate on these specialized shelves. Both gondolas and endcaps can be fit with slatwall or pegboard panels in various locations. This allows you to display a wide variety of different types of merchandise and helps break up the monotony of all your shelving looking the same.
There are plenty of exciting shelving options to consider besides these. Look beyond the ordinary and strive for a touch of uniqueness. You can create an enticing and inviting retail environment.
Image credit: Joshua Rainey Photography / Shutterstock.com