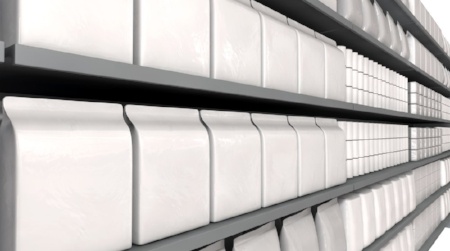 Have you been working with stockroom shelving that's not right for you? Is it difficult to get to your inventory because you can't reach it, or because it's blocked by other inventory in your too-small stockroom? Are you concerned that valuable inventory may not be as secure as it should be?
Fortunately, most inventory organization and storage difficulties can be addressed with the right shelving and storage solutions. This is true even if you're working in a very small retail or pharmacy stockroom where space is at a premium.
There are three basic principles of stockroom shelving that you should follow to have a well-organized stockroom, one that will hold the most inventory in your limited amount of space, yet make it easy to find and keep track of:
1. The stockroom shelving systems you choose should fit your space.
Stockrooms for retail stores and pharmacies are often tiny; with space at a premium, the shelving systems you choose must make efficient use of that space. To do that:
Choose the correct size and construction
The size of the shelving you choose will depend on the size of your stockroom and on the inventory you'll store there. Standard stockroom shelving is usually constructed of wire, metal and/or plastic, and will support a variety of weight limits depending on materials and construction.
Raise stockroom shelving height for more storage in the same amount of floor space
"Going vertical" by raising shelving unit heights as high above eye level as possible will increase your storage space without crowding floor space.
Opt for mobile shelving
Mobile shelving or "carriage systems" are simply shelving units on wheels; they are either able to be moved freely or are placed on tracks, depending on what your situation requires. Carriage systems let you reconfigure your stockroom as you need to very easily, and with almost endless flexibility. This type shelving for your stockroom also lets you place storage shelving units very close together for most efficient use of space. Simply move units back and forth as needed to access supplies or inventory. Those with "smooth stop" capability make it possible for units to be moved very quickly without disturbing the inventory they hold. This can increase a stockroom's workable space by as much as 50%.
2. Your stockroom shelving system should be flexible and customizable to keep up with changing storage needs.
Modular stockroom shelving changes and grows as you do. For pharmacy settings, for example, an array of bins, pegs and trays can be endlessly configured to meet your needs, and are solutions that can be used in sterile mixing environments. Retail shelving needs can also benefit from a similar mix of shelving units for larger items, coupled with bins or pegs for smaller items.
3. Your stockroom shelving system should make it easy for you to keep track of and secure current inventory.
No matter the inventory system you use, the shelving and storage systems you use in your stockroom should make it easy to keep track of. Stock should be readily visible and easy to access for inventory counts or tracking, or to rotate stock. Specialized locker or secured storage can be combined with shelving to secure valuable retail items or pharmacy narcotics and other controlled substances.
A small stockroom doesn't have to mean that you should put up with cramped or difficult to access storage. The right shelving and other storage options will give you durable, long lasting and flexible stockroom solutions so that your precious inventory is easy to keep track of and restock as necessary, is easy to access, and is safe and accounted for.