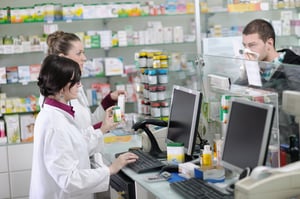 Four simple characters can evoke a sense of dread. In this case, they are H1N1, the same strain of the flu that is estimated to have killed as much as five percent of the world's population between 1918 and 1920. With that strain resurgent in 2019, many are warily eyeing their pharmacy supply chains and hoping they hold up if the worst should happen. In the interest of resiliency, which supply chain issues are most urgent today? At Shelving Design Systems, we're applying lessons learned in the past to pharmacy design for a better future.
Drug Shortages
Seven years ago, the NIH called drug shortages a "crisis," and the problem has hardly improved in subsequent years. A solution remains elusive in part because of the sheer number of supply chain choke points, including the availability of raw materials, spikes in demand, manufacturing problems, and poor business practices. The consequences are familiar enough not to require repeating to any experienced pharmacist. The solutions should include robust data gathering and sharing, clear communication among all stakeholders, and collaborative efforts toward solutions. Thankfully, the FDA has begun to take this issue seriously enough that they have empaneled a Drug Shortages Task Force to help improve processes and outcomes.
Drug Availability
Drug shortages, it stands to reason, are one factor that impacts drug availability. It's far from the only one; space is finite in any pharmacy, leading to a prioritization of certain drugs that may be more urgent due to seasonal or epidemiological demand, or a deprioritization of drugs that are less in-demand or less profitable. Data management helps to ensure proper stocks and utilization of resources; smart pharmacy design that maximizes available space is likewise helpful in ensuring patients have access to the drugs they need, when they need them.
Inventory Management
Part of addressing availability and shortages comes down to effective and efficient inventory management — with the added follow-on benefit of controlling costs by not taking up valuable space with stagnant stock. As Biopharma Dive points out, some 80% of drug components and precursors and roughly 40% of finished drugs are imported from overseas. That means traditional problems like traceability, compliance, and QC issues, plus other worrying developments like the United States' recent trade imbroglio with China, can all impact the supply chain and put a pinch on your pharmacy. A further wrinkle, as the article states, is the Drug Supply Chain Security Act, "which requires any company wishing to sell pharmaceuticals in the U.S. to facilitate product 'traceability' by 2023."
By now, two things should be abundantly clear. First, none of these issues exists in a vacuum; each impacts, and amplifies, the others. Second, the solutions to these issues are also interconnected. The DSCSA compliance deadline, besides impacting your pharmacy workflow, is something for which you should already be planning with robust inventory management and automation systems. These, in turn, will be an opportunity to right-size your pharmacy, improve its layout, and maximize your workflow. If you're stuck with these issues or a number of others, including pharmacy decor and design, Shelving Design Systems can help with a wide range of pharmacy solutions.