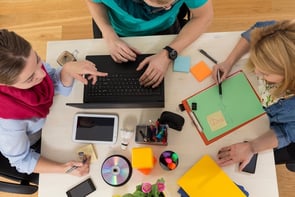 If you're about to remodel your existing pharmacy or build a new one, you'll need the help of a firm that specializes in pharmacy design. Why? Three main reasons:
1) They can help you modernize your pharmacy's look
Pharmacies today should be warm and inviting – but fresh and clean as well. Pharmacy design experts can assist you with your decor so that it's stylish and elegant, welcoming and functional, clean but not sterile, and highlighted with natural accents like wood flooring and shelving. One of the biggest trends in pharmacy today is to bring the outdoors in by adding non-pollinating plants to the interior and installing skylights or reconfiguring existing windows to bring as much natural lighting in as possible.
2) They'll help make sure you optimize workflow in the workspace
An optimized workflow is important not just for your employees' efficiency, but for your customers' happiness and for industry regulations as well. Your pharmacy design firm can assist with your remodel by making sure that you prioritize privacy as part of your workflow protocols.
Your design firm can help you set up workspaces that are away from the customer areas, with a privacy wall and private filling stations for technicians. This is essential not only for efficiency, but also to protect patients' privacy as specified by HIPAA regulations.
The workspace itself must be big enough so that everybody can work with the best efficiency. Foot traffic patterns and specific procedural protocols can help avoid bottlenecks even in existing spaces, but your design firm can help you set up your floor plan so that the workspace area is big enough to accommodate everyone's needs.
3) They'll contribute to making sure you comply with industry regulations
There are three specific areas your pharmacy redesign will have to address regarding industry regulations: accessibility requirements, HIPAA privacy regulations, and clean room regulations.
Accessibility requirements
Your pharmacy design and layout must incorporate specific accessibility requirements for your disabled customers as specified by the Americans With Disabilities Act. For example, your customers in wheelchairs and those with other disabilities must have access to:



At least one accessible entrance that is ramped and 32 inches wide


Access to adequate disabled parking spaces


At least one accessible bathroom per gender (or unisex)


At least one accessible checkout lane with counter no more than 36 inches high


At least one accessible service counter that is no more than 36 inches high


Aisles in your store that are at least 36 inches wide, with merchandise offered on lower shelving whenever possible


HIPAA privacy regulations
HIPAA regulations require that patients' privacy is strictly protected. In addition to the aforementioned privacy wall and private tech filling stations, workstations must now be centralized, with strict access protocols and secure logins.


Clean room regulations
Your pharmacy design firm can help you develop plans for a clean room with adequate HEPA filtration, air pressure, appropriate construction materials, and design to create sterile preparations. This is required by USP Chapter 797, published by the United States Pharmacopeia. These regulations were last revised in 2008, with a notice of intent to revise posted on September 25, 2015.
Hiring a pharmacy design firm is worthwhile because it can make your new or remodeled pharmacy the best it can be. The firm will plan for aesthetics and optimal merchandising, but just as crucially, it can focus on industry regulation compliance and optimization of the workspace for efficient workflow.