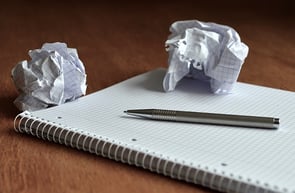 Whether you are remodeling or building new, there are three things you need to know before you plan your pharmacy shelving purchases.
#1: How much space you have to work with
It will be too late to plan your shelving and fixture purchases optimally if the permanent elements of your store are already in place when you start.
Make allowances for certain "permanent" elements like electrical outlets, restrooms, exits, and at least some lighting.
Plan pharmacy shelving and fixture purchases before you finalize your store's layout, even if your instinct is simply to "fit them in" after it's finalized. You'll meet your storage, display, and privacy requirements much more easily that way.
Include inventory and storage areas.
In addition to planning out public customer and private work areas, determine how much floor space will be given to retail and pharmacy inventory.
#2: Accessibility requirements
Your pharmacy layout and design needs to meet specific exterior and interior accessibility requirements for disabled customers as specified by the Americans with Disabilities Act. This is especially important, since many of your patients will have physical challenges.
Interior requirements specific to layout and pharmacy shelving purchases include:
At least one accessible bathroom per gender (or unisex) with bars, lowered sinks, raised toilets, and 60 inches of floorspace.


At least one accessible service counter (including pharmacy counter) and at least one checkout lane that is a minimum of 36 inches wide.


Accessible aisles in customer areas that have at least 36 inches of clearance between aisles and other spaces whenever possible.
#3: What will happen in that space
Determine which is retail and which is pharmacy "space."
While the pharmacy area of your store by necessity must meet certain regulations (especially in regard to HIPAA regulations) and be optimized for workflow in private work areas, you can optimize your retail space without limiting the merchandise you offer.
Use narrow shelves and space-saving display options like slat walls and floating shelves, or slatted gondola units instead of gondola shelving. Narrow shelves save on floor space and give you greater flexibility. You can stock a wider variety of products in a smaller space without crowding – and you won't have to tie up as much money in inventory; you'll still look well-stocked with less.
Floating shelves and gondola units' sleek design and wide range of accessories like hooks, baskets, brackets, shelves, and rails let you display small or oddly shaped merchandise efficiently and effectively. You can also move them whenever you need to for best efficiency.
Will you be a social "hotspot"?
Independent pharmacies are bringing back the old-fashioned soda fountain and/or coffee bar. It's a great way to become an integral part of your community. You'll need a specific and detailed plan for your fountain/coffee bar, including the floor space it will take up. Include any pharmacy shelving or fixture purchases needed for your fountain in your budget, and determine how much space you'll need for them as well.
Don't forget HIPAA privacy regulations.
Follow HIPAA regulations and strictly protect patient privacy at all times. Pharmacy shelving and fixtures that store any portable devices used to access patient health information (PHI) should be securely locking, and workstations should be centrally located with strict protocols put in place for access. Workspaces should be behind a privacy wall whenever possible so customers do not accidentally overhear or see anything in regard to PHI.
Make your pharmacy shelving purchases cost-effective by planning them before you finalize your store layout.