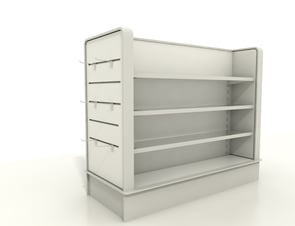 A current, ongoing trend for pharmacy and other retail store display preferences is paying particular attention to the perimeter areas surrounding the merchandising space. This is especially apparent when shopping in today's larger grocery stores where the perimeter walls are likely to contain the fresh produce, the meat department, seafood selections, dairy, and other fresh food choices. The Mayo Clinic even recently included advice in their newsletter advising readers about a "grocery store secret: shop the perimeter." They say shopping a store's perimeter area is generally much healthier than buying the ready-to-eat foods normally found in the center aisles.
This same philosophy can be carried on to other retail establishments, such as clothiers and pharmacies, although not necessarily with special food choices. Instead, retail display wall units can be used to create high-impact areas or to showcase especially high profitability items. Innovative wall unit displays can be impactful because of their sheer size, as they can represent some of the largest display areas in your entire merchandising section. They also offer the opportunity to encompass numerous different display options all in one space. Examples of this may include various types of shelving; a variety of hanging arrangements, such as hang rails or waterfalls; slatwalls with many different configuration options; and even built-in cabinets for providing added storage space.
The Attraction of Built-In Cabinets
Retail display wall units that incorporate built-in cabinets can serve a variety of purposes and are especially useful in stores where storage space is at a premium. Typical uses for these types of display systems may include the following:
You can feature a hanging clothing display that has a variety of sizes and colors of a particular item out for customer viewing with only one or two of each option on display and the rest neatly hidden behind the closed doors of the built-in cabinets. This also makes restocking hangers or shelves quick and easy when the need arises.


Any overstock on hand can be neatly kept out of sight from customers' eyes yet remain quickly available when needed. This makes it possible to buy larger quantities of a specific item that carries an especially healthy volume discount. It is also a great place to store out-of-season items.


With an almost infinite variety of configurations available in wall displays, including material composition, back wall type (slatwall, grid wall, etc.) and height, width, and styles of shelving, adding cabinetry either above or below the central display area can also provide a more attractive, less standard look. Mixing and matching these various types of display scenarios can produce some eye-popping design solutions.
Wall units with cabinets can be custom made to fit your purposes and, with all the accessories available to adapt to your slatwall or grid wall backing, a unit can be modified to create a fresh look anytime you desire. Various-sized hooks and brackets, J-hook hangers, waterfall hangers, and baskets of varied types make changing up the look of your display quick and easy. Storing these various accessories is also made easy if you use one or more of the built-in cabinets for that purpose.
Form and function both come into play when you install nice-looking, modern retail display units with cabinets. Dress up your store's perimeter walls with some of these creative display solutions. By the way, they can also be used in a pharmacy's back end area to provide easy access to needed supplies while also offering the security of built-in, locking cabinets.