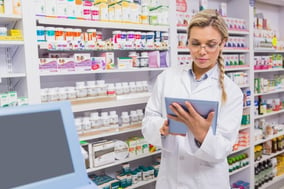 Having an efficient pharmacy workflow is imperative to the success of your business. An inefficient workflow doesn't just waste time; it can also:
Make your customers unhappy
They have to wait longer than necessary for their prescriptions, which reflects badly on you.

Result in prescription errors
More than just embarrassing, prescription errors can be dangerous and even deadly.

Reduce your profits significantly
About 90 percent of your profits probably come from prescription sales, so making your workflow its most efficient can improve your profits even if you don't change anything else.

Fortunately, there are ways to improve your pharmacy workflow – and keep improving it.
Evaluate
Ask: Are employees as efficient and accurate as they can be?

You should be reevaluating your pharmacy workflow on a regular basis to make sure technicians, employees, and you have continued to follow protocols previously set up. Have there been any slip-ups? Have employees become lax, forgotten procedures, or not kept to the foot traffic patterns for tight workspaces?
Ask: Are you using outdated equipment (or none at all)?

Pharmacy has come a long way since the days when prescriptions had to be manually filled. Today, automated pharmacy workstation technology can:
Leave most prescription fills to robots

Eliminate medications' cross-contamination

Eliminate downtime by allowing you to stock inventory with just a keystroke or two

Reduce medication errors

Make you and your staff more productive

If you've overlooked automated technology because you believe it will lead to more errors or that it's something you just don't need, it's time to reconsider. Robots, for example, can fill prescription vials and affix labels faster and at a much lower error rate as compared to humans. Not only will you have fewer medication errors and avoid cross-contamination, but you'll also have happier customers thanks to reduced wait times.
Ask: Is the previous efficiency plan still working?
If your employees have taken shortcuts that have reduced accuracy, or your floor plan for traffic flow in the work area doesn't make sense anymore, it's time to reevaluate. If your employees are the ones who do most of the hands-on work in the workstation, their feedback is important because it can help improve efficiency.
Implement necessary changes
After you have completed an effective review process, it's time to implement automation technology or update it as needed. If you have discovered traffic flow patterns issues, make the necessary changes for better efficiency, or reinforce previous setups. If needed, customize tech stations for every technician.
Make sure to observe HIPAA privacy rules observed at all times, with sensitive personal information on labels, etc. kept out of sight in drawers.
Reevaluate continually
It's not enough to just buy automation equipment or to implement carefully constructed plans for efficiency and accuracy. You must also reevaluate protocols and technology continually to make sure they're still working. Your protocols should include necessary observance of industry regulations including HIPAA to make sure patients' rights and safety are always protected.
If you haven't evaluated your pharmacy workflow for a while, now is the time to do so. An optimized pharmacy workflow can significantly improve your profits – but there's much more to it than that. An inefficient, unorganized workflow can make your customers unhappy because they must wait for prescription fills, but even more importantly, it can cause privacy breaches and even dangerous medication mix-ups or cross-contamination.
Make your pharmacy workflow's efficiency a priority. Establish strict protocols, and invest in or upgrade in automation technology to improve accuracy and efficiency with prescription fills. Finally, revisit your workflow regularly and revise as needed to make sure you and your employees are as efficient and as accurate as possible.