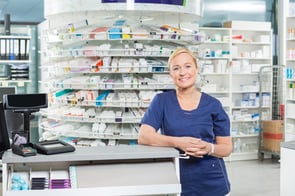 In the competitive environment of today's retail pharmaceutical industry, anything and everything that can be done to improve your pharmacy workflow will serve well in keeping your independent community drugstore thriving. Applying a combination of proven strategies, proper planning and concerted effort can be effective in improving your dispensing process—the key to pharmacy workflow efficiency.
When the dispensing of prescriptions is running smoothly, everything else in the back end of your drugstore should fall right into place. Your customers will be happy because they'll have shorter wait times for receiving their orders. Technicians will be happier because they won't be stressed out about always being behind in their work and having to rush to get tasks completed. The pharmacist will be happy because they will have more time and opportunities to counsel patients and perform other duties aligned to the improvement of patient care. Plus, operating costs will be lowered, thereby creating an increase in store profits.
1. Identify and Organize
The first step in creating a more efficient pharmacy workflow is to study your current system and measure how things are accomplished within the process of filling a single prescription for a single client. Each step of the process should be reviewed and measured. This includes not only how much time is involved completing each step but also how much bending, reaching and walking is being done. The idea is to uncover inefficiencies and waste. Unnecessary movement wastes time and energy, so workstations should be designed to curtail as much unnecessary movement as possible. This will improve both efficiency and productivity.
2. Control Your Inventory
Attempt to keep just the right amount of inventory on hand. Too much inventory wastes valuable storage space and ties up capital that may be better used elsewhere in your operation. Too little inventory can mean disgruntled patients if their item is out of stock, causing lost sales. Perpetual inventory programs are available to aid in your inventory control efforts. Consider installing one of these.
If you have regular clients who use expensive, infrequently used medications, such as those for treating HIV or rheumatoid arthritis, consider asking them to give you a reminder a week or so before their refill is due. This will allow you to obtain the needed medications in time without the requirement of keeping them in stock at all times.
3. Use Automation to Streamline Your Processes
While robots and other automated dispensing equipment won't ever be able take the place of qualified pharmacists or technicians, they can certainly go a long way toward increasing efficiency, helping control inventory and enhancing patient safety. Investing in automated devices can also provide extra time to the pharmacist for counseling clients and performing other profit-generating clinical services, such as taking blood pressures and providing vaccinations.
4. Train and Cross-Train
Ensure that everyone on staff is properly trained and cross-trained to perform all tasks. Technicians shouldn't be performing the same types of duties all the time, but should be rotated throughout all the work stations during a shift. If one individual is always doing the prescription filling duties and is suddenly called on to help out with customer service, their unfamiliarity in this position can cause a bottleneck. A simple rotation system should be set up, and each tech should be trained to perform each individual's back end duties.
Conduct regular reviews of your workflow process to ensure people aren't slipping back into old habits, and ask staff members to provide suggestions for workflow improvement. There's always room for improved efficiency. Just continue looking for ways to do things better.