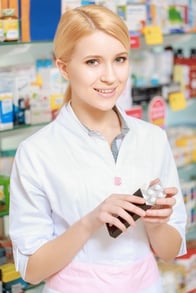 If you're in a building or expansion phase, your new pharmacy must seem exciting to you. This is the perfect opportunity to create just the right layout, fixtures, and function from scratch – no more making do with someone else's vision of what it should be.
Nonetheless, there are some things your new pharmacy must have, without question.
A setup that honors strict attention to privacy
HIPAA privacy regulations established in 2013 mean that you now have to stringently protect patients' privacy – in particular, patients' health information, or PHI. Your layout, workflow, and shelving and fixtures must all accommodate these new privacy restrictions as necessary.


New pharmacy shelving and fixtures
Pharmacy shelving and fixtures are often overlooked when you're building. They either get "squeezed into" the budget as an afterthought or left out altogether; you end up making do and not getting what you need. So include pharmacy shelving and fixtures in the budget immediately. You don't have to replace anything still in good shape and useful, but replace whatever's out of date, broken, too "institutional," or doesn't blend into your fresh, new look. Aesthetics aside, investing in new shelving and fixtures will also make it easy to reconfigure layout and displays at will, as new systems are easier to set up and break down.


The right layout
You want to make it easy for your customers to shop and see everything you have to offer. The best way to do this is to construct a footpath through your store that guides customers to all the right places throughout your space.

When customers enter your store, most will look left, first, and then walk to their right. The footpath (which is most visible and easy to follow if it's carpeted) should meander through your store in a counterclockwise fashion. Make it centralized and wide enough so that customers can pass each other in either direction easily, and make sure customers can see every department and major display from this footpath. They won't miss a thing, but they won't even know they're being guided because you've made it so easy for them.


Appropriately placed displays
Don't forget your displays. Invest in shelving and fixtures that are easy to handle so that you can set up fresh new displays regularly. Place high-volume or seasonal items at store and department entrances, with special offers to guide customers in, and at the checkout. customers will be intrigued by the displays, then be drawn in to see what you have to offer.
Your new pharmacy gives you the chance to make a fresh start: Establish exactly the layout you want, invest in fresh new pharmacy shelving, fixtures, and flooring, and make sure the pharmacy shelving you purchase both meets specific industry needs and is attractive. There's no need to make do with what someone else has left behind.