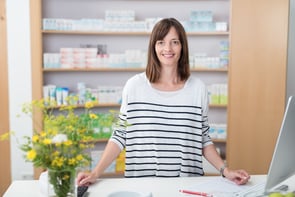 Although the sale of prescription drugs is the number one revenue generator in most drug stores, your independent pharmacy can be much more than just a place where people come to have their medication prescriptions filled. It's also where they can come to find food supplements and vitamins, food products, over-the-counter medications, convenience items, household items, health and beauty aids, souvenirs, gifts, and much more. Knowing how to promote the sale of these front end retail items can greatly improve your store's bottom line, and it's our purpose to help you do that with some proven tips to increase merchandise sales.
Pharmacy Design
Your pharmacy design layout is an incredibly important factor in promoting front end sales, both in its aesthetic appeal and its psychological impact. As an independent pharmacy owner or manager, one of your goals should be creating a uniqueness that sets your store apart and above what customers could otherwise find in the nearest big box or chain store pharmacy. You want the layout to be friendly and inviting and to project an aura of hominess and comfort, not the cold, bright-lit sterility so often achieved by the competition. There are plenty of ways to achieve this, some of which can be found here.
Take Advantage of High Traffic Areas
It's not necessarily a good idea to rely on your intuition to determine which products are best to feature in your store. There is plenty of available market data that can clue you in on what's currently hot and what's not, and these should be the items you're featuring in your highest traffic areas. These high traffic areas usually include the spaces right around the prescription counter and the areas around and leading to the checkout counters. Having a comfortable seating arrangement near to the prescription counter, maybe even with a coffee/tea bar, can work to your advantage. This gives customers a place to rest and to visit but can also feature popular merchandise within easy view for them to consider while waiting.
Your pharmacy design layout should also include some well-placed endcaps to draw customer attention to hot-selling items you want to promote.
Display Related Products Together
In addition to training front end staff to cross-sell/up-sell, make it a point to display merchandise that's related to other merchandise in proximity to each other. Cold remedies, for example, can be displayed next to facial tissue. Suntan lotion can be featured alongside sunglasses and hats. Your knee, elbow, and wrist brace display could be located next to a shelf holding joint pain relievers and liniment.
Service With a Smile
There's no question that shoppers prefer doing business with people they like, and exceptional customer service should be priority #1 for every single person on your store staff. Regular customers should be greeted by name, and first-time visitors should be made to feel comfortable and at home. Promote an atmosphere of care and trust and create strong relationships with your clients, and they won't want to go anywhere else for their pharmacy needs. Why would they?
The more time people spend in your store per visit, the more money they'll spend on merchandise. It's simply a matter of making your store a place where they enjoy spending time. If your pharmacy design includes interesting displays, attractive color schemes, modern lighting techniques (get rid of the fluorescent tubes), some plant life, and skylights for natural lighting, you're sure to win them over!