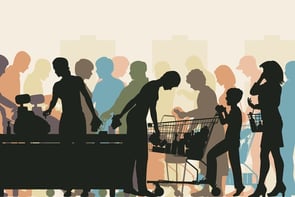 Traffic jams are an unpleasant occurrence whenever they're encountered, whether out on the highway or inside a crowded retail pharmacy store. And while there may not be much you can do about the highway kind, short of avoiding the area altogether, you can, in fact, fix your store traffic patterns to help alleviate traffic jams so that your customers don't choose to avoid your area too!
For any type of retail establishment, high-traffic volume is a blessing. More customers coming in typically means more merchandise going out. But if those high-traffic patterns are causing bottlenecks throughout the business, customers may decide it's not worth the hassle of fighting the crowds and take their trade elsewhere. There are ways to establish orderliness in the design and layout of a pharmacy that allow for fewer traffic jams and happier customers simply by improving the existing traffic patterns. Here are some ideas to consider.
Look Left, Walk Right
It's a person's natural inclination to walk to the right when they enter your store. This phenomenon is known as the "invariant right" and has been proven in various studies to be true. It's suggested that, since most people are right-handed and we drive our cars on the right side of the road, keeping to the right in stores or in malls is a natural thing to do.
Smart retailers use this fact by displaying must-have items like new arrivals, markdown items, or seasonal merchandise to the right of the store entrance but not too close to the doorway. This display area needs to be wide open to accommodate multiple shoppers, and it's important to have it looking especially neat and tidy since first impressions count and this initial area will set the stage in the minds of visitors for the rest of the store areas.
It's also wise to duplicate this "must-have" display in some other areas of the store so that people passing up the first site because of the accumulation of shoppers there will still have the opportunity to purchase these same offerings farther into the store.
Give 'Em Room to Move
You should be able to create your desired customer traffic patterns by using the placement of your store shelving and other fixtures to cause an easy to follow flow that meanders through as many sections of the merchandising area as possible. Aisles should be wide enough to allow two people with pushcarts to easily traverse aisles side-by-side or coming from opposite directions. All store sections should be clearly marked with large signs so that it's easy to find which sections you want.
Collect for Sales Toward the Rear
Avoid locating the cashier's counter near the front of the store. While some people may be on a simple errand to buy a single item and get in and out of the store as quickly as possible, having them pay for their purchases near the center or rear of the store will give them the opportunity to view items they may not have considered buying before. Getting the cash counter away from the front will also let customers shop without the feeling of "in-your-face" sales pressure by your associates.
Take a Load Off!
It's a good idea to set aside one or more areas in the store where people can sit comfortably to take a rest or visit with others. This way those chatting won't be blocking the aisles and your store will have a friendlier atmosphere. Progressive store owners may even install a coffee bar, giving customers more reason to linger longer in their stores.
Pharmacy space design experts use these and other strategies to successfully encourage an orderly traffic flow. Consider using these and experimenting with others to keep your store's foot traffic moving along while avoiding getting jammed up.