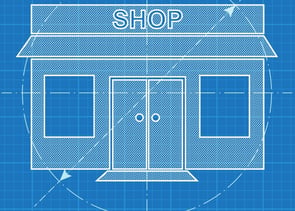 When remodeling an existing pharmacy or building a new one, planning ahead with your shelving design and placement to make things as convenient and as accessible as possible for customers is important. When customers are spending time in the front-end merchandising area of your store, you want the shelving design to guide them through the aisles in a natural way so that they have the opportunity to view all the different sections of your retailing space. This can be done by precise placement of the shelves used for the display of products in the center of the store. Usually, modern-style gondolas are best for doing this.
There have been scientific studies conducted that point to the importance of specific pharmacy shelving design and placement and how it affects customer behavior. Most people, for example, will look left when entering your store but turn right. This has something to do with most people being right-handed. Effective display placement should take advantage of the knowledge gained through these various studies in order to obtain the best opportunity to deliver what your target customers need and what they want, even if they didn't come into your store knowing they wanted it!
One sure way to be able to utilize all of the important information that's been gathered regarding effective pharmacy design is to hire a company specializing in pharmacy design of both new and remodeled drugstores. Contracting with a firm with a proven track record and lots of experience in this area will remove a huge weight from your shoulders and provide the best chance for your build or remodel to produce the type of results you envision. Since the planning stage of your project is so critical to the overall outcome, hiring a competent design team should be accomplished at the very beginning.
Back-End Shelving Design
Not only does the front-end shelving design need to be planned in advance of any construction taking place, but the back-end prescription filling area also needs to be considered in order for everything to run smoothly back there once everything is set up. Here are some reasons why pre-planning back-end shelving design is important:
Adherence to HIPAA regulations calling for workstations and filling areas removed from customer areas will require a well-planned shelving and fixture configuration that can't possibly be just slapped in after the fact.
Workstations need to be centralized and a privacy wall constructed without hindering an efficient workflow for staff members. Required shelves, desks and other fixtures should be factored into the mix early on in the planning stage to avoid later bottlenecks caused by improper fixture placement due to a lack of required space.
Front-End Planning Requirements
If you wait to plan your store's front-end shelving design requirements until after construction has been nearly finished, you may run into problems that could have been avoided by proper planning. Remember the five P's: proper planning prevents poor performance. Here are some planning points to ponder:
You'll need to meet specific accessibility requirements laid out by the ADA for disabled customers. This includes regulated aisle widths and counter heights. Consider these factors early on in your planning.
Design allowances for electrical switches/outlets need to be considered in conjunction with shelf and fixture placement.
The location of restrooms and exit doors cannot be impeded by later shelf placement. Pre-plan these placements together.
It shouldn't be surprising to learn that the planning phase of a pharmacy build or remodel may take as much time as the construction phase. It will be time well spent. Make sure shelving design is factored in early on.