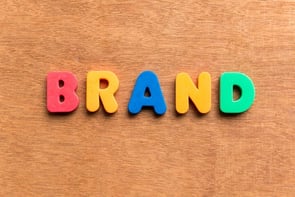 Consumers today have so many choices when it comes to pharmaceutical needs that it's mind-boggling. Between the big box stores that seem to be on every corner and the smaller mom-and-pop shops, it can be difficult to differentiate yourself from the competition.
One of the best ways to do that is use your brand colors in the design of your physical space. Whether you purchased an existing pharmacy or you're building from the ground up, there are a variety of ways to incorporate your brand colors while following today's pharmacy trends.
Use this guide to help you make sure your pharmacy décor represents the quality of your brand.
Walls and Doors
Your walls and doors give you the most surface area for blocks of color, so it only makes sense to use them to incorporate your brand colors. Painting walls is obviously an easy task, but big swatches of color aren't always best.
To give your space a little more visual appeal, try making your brand colors the focal point of a multi-colored wall. This works especially well when you're dealing with very large walls. Incorporating a logo onto the wall is also one of the popular pharmacy trends you should consider using.
Other options for high-end pharmacies include colored glass doors and partitions. These can make a small space feel bigger and more vibrant while including your brand colors.
Retail Areas
Today's consumers don't go to the pharmacy just to pick up a prescription and then walk right out the door after paying. In fact, as you're probably aware, consumers do a considerable amount of "convenience" shopping while they are picking up (or waiting for) a prescription.
Retail areas that display products like bottled water, cosmetics, and even candy or chocolate are excellent areas to showcase your brand colors and color scheme. Use bold, bright end caps on your aisles and custom shelving to display your merchandise.
Don't worry about packing tons of product on your store shelves. Use well-designed displays and branding to sell products and retain customers.
Custom Shelving
If you want to stand out from the big box pharmacies and mom-and-pop shops that have been in business for years, you're going to need to take a high-end approach. That means eschewing the boring industrial shelving choices and going for something custom.
Whether you choose wood, laminate, painted steel, colored glass, or any other type of material is up to you, but don't ignore the opportunity to work your color scheme into your design. Even if you simply used colored placards or dividers on your shelves, you can really use this space to incorporate your brand colors and thematic pharmacy design.
Checkout Counters
Pharmacy trends show more people are spending money on non-prescription goods at pharmacies, so you need to take advantage of that. Make your checkout counters areas where customers can see and remember your brand's image.
Use colorful end cap displays to sell impulse items and incorporate brand-colored surfaces, and consider branded inlays for your flooring.
Pharmacy Counter
The pharmacy counter is still the biggest draw, so you want to make sure your customers get to know your brand while they're in line or talking with their pharmacist. Take a multi-pronged approach to including your brand colors into the pharmacy counter design.
Use colored laminate for the counter surface, place colorful displays on top, and paint walls behind the counter with your logo. Try adding colorful partitions or painting shelves for storing prescriptions in your colors as well.
The key with branding is consistency. It's also important to remember if you have multiple locations to maintain this consistency across each store. This is what will help your pharmacy stand out against your competition and rise to the top.