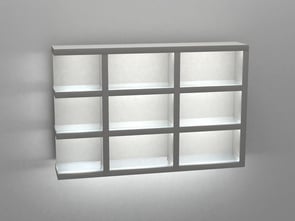 Whether they're located in a grocery store, a neighborhood pharmacy, or a retail clothing establishment, all retail display cases serve a similar set of purposes. Some are more successful at this endeavor than others, and our goal here is to share some tips to get you thinking about ways to give your store's retail display cases a functional makeover. Function, however, is just one ingredient to consider.
Other purposes you might ask of your display cases may include:
Making the store environment more interesting, with just the right touch of variation applied throughout
Making the most out of the space you have available
Presenting your products in an aesthetically pleasing way
Providing organization to your store and to the goods on display
Establishing direction for a useful customer foot traffic flow throughout the entire retail space
Making customers feel comfortable and "at home"
Enhancing your store's image
Promoting the propensity to buy more products
Key Aspects of a Successful Makeover
It's not a bad idea to change things up every few years in your store so that the environment doesn't become stale, especially to your regular, long-term customers. Besides the obvious updates that can be made to wall coverings, floor coverings, lighting, and signage to spruce things up with a new look, giving your retail display cases a facelift or makeover can go a long way toward bringing on some amazing changes too. Here are some tips to consider:
Use unique combinations of materials for shelves, cabinets and other display fixtures. Create interesting variations utilizing metal, wood, faux wood, glass and even colorful, high-density plastics.


Custom millwork shelves and cabinets add a true look of elegance to a display, letting your customers know you value high quality. These can be especially effective when displaying higher-end items.


Making the most out of the space you have can include utilizing display wall units with built-in cabinets below that can be used for storing overstock or off-season merchandise. Slat wall backs can be added to provide the capability of using shelves at various heights mixed with a variety of hooks, waterfall brackets, and other display options.


Long runs of hanging racks can be broken up with shelving to add variation to what might otherwise appear as a not-so-interesting display.


Slat wall backs are ideal for perimeter displays where you want to mix and match various showcase options to keep things visually interesting. Slat wall is one of the most versatile display options available. It can also be incorporated into display fixtures placed in the center area of your store, such as free-standing gondola shelving.


Having organized displays is an important factor you should strive to achieve, since nobody wants to shop in a messy-looking store. Showcasing your goods to their maximum potential will help items move more briskly, especially when everything is displayed neatly, in full visibility, and in an eye-catching way. One great method of adding pizzazz to your central shelving displays is to utilize multi-sided end caps that allow visibility from 270°. This is a visually pleasing way to showcase your products that is sure to grab the attention of those within view.
There's no end to what can be accomplished with some fresh ideas and the desire to make your store more interesting, more welcoming, and more unique – all of which can be used to enhance your customers' shopping experiences. Use these ideas and more to create the kind of environment you yourself would appreciate when you're out shopping.