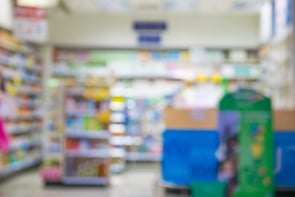 Pharmacy layout design is an incredibly important factor in overall store efficiency, both in the front-end retail merchandising area as well as in the back-end prescription filling section. Anything that can be done to streamline prescription filling processes should be seriously considered if efficiency is a primary goal in the improvement of your dispensing operations. Pharmacy staff should ask themselves exactly what they hope to accomplish through a pharmacy layout refit, such as improving current workflow, and what can be done to save time and improve customer satisfaction regarding the services being received.
Back-End Operations
An ideal setup behind the pharmacy counter will allow for prescriptions to come in and go out as quickly and as safely as possible without employees having to reach around or step over each other or to waste time taking more steps than absolutely needed when completing a task. While wasted steps or excess bending and reaching may not seem like such a big problem during a single isolated task, multiplying these efforts many times during a single work day will quickly add up. Over a week or a month's time, these inefficiencies can have a marked effect in a number of areas affecting service quality. Changing the back-end pharmacy layout should help. Consider these tips:
Study space allocation requirements for each workspace and fit each area with appropriate desks, counters, and storage areas, trying to keep everything needed within easy reach.


Consider modular shelf systems, automated dispensing systems (robots), and functional carousel systems.


Plan out an area directly behind the pharmacy counter for the pharmacist to sit or stand. This way, they can interact with patients personally upon arrival. With a proper computer setup at this location, the pharmacist can complete a clinical check when the patient arrives for a prescription fill and dispense advice when the order goes out. This also allows the pharmacist to be available to do blood pressure checks and immunizations and provide other needed patient services.
Front-End Layout Design
Smaller independent pharmacy owners are learning that taking steps to make their stores warmer, homier, and more customer-friendly can go a long way toward improving the shopper experience. This, in turn, causes customers to want to come in more often, to stay longer (and shop more) when they do come in, and to spread the word to others about the great shopping experience a pharmacy offers.
Here are some of the changes in your store's layout that can have an immediate, positive effect:
Set up modern, flexible shelving so as to guide visitors through the store along a pre-planned route in a counter-clockwise direction (most natural for the 90% of us that are right-handed) that takes them into view of each department.


Banish the use of fluorescent tube lighting that's ugly, noisy, and glaring to many people. Better options include CFLs (compact fluorescent lamps) or LEDs (light emitting diodes), which provide softer, more comfortable lighting and conserve energy, saving utility dollars.


Bring the outside in by installing large sidewall windows and/or skylights and tastefully featuring non-pollinating plants throughout.


Give customers a place to sit in several areas throughout the store. Choose locations that allow them easy viewing of some of your better-selling items. Large, bold signage should be visible from these seating areas. It wouldn't hurt to have some tables and a convenient coffee/tea bar as well.
Improvements in your store's efficiency are geared toward increasing customer satisfaction, boosting employee morale, and improving the all-important bottom line. Use these tips and others to help make your pharmacy the best it can be.