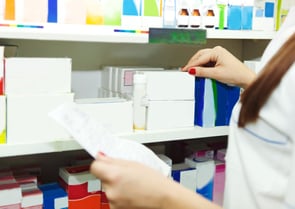 Good housekeeping in your pharmacy isn't just a matter of cleanliness; it also involves keeping both front and back areas neat, tidy, and free from trip-and-fall hazards. Moreover, keeping an orderly store benefits everyone – customers and staff members alike. Adequate and functional pharmacy shelving is an essential ingredient for reducing storage clutter in your shop and, in some cases, having the proper pharmacy shelving can save big money by reducing the amount of lost inventory that remains the bane of many would-be-profitable enterprises. Reducing clutter makes it easier to keep track of your store's inventory, provides a safer workplace, and improves overall aesthetics. Adherence to some common sense rules can make a big difference in clutter control.
Back End Medication Dispensing Area
All storage areas in the back end work area, including pharmacy shelving, refrigerators, will-call bins, and safe areas for controlled substances, should be large enough to avoid any cluttering. Safes and refrigerators should have baskets or shelf dividers to allow for easy viewing of stock and adequate spacing in between different items.


Stock should be regularly reviewed on a fixed schedule to weed out short-dated or expired stock or items that have been recalled or are to be returned. These items should be removed to a separate area away from regular stock.


A designated space should exist for receipt of new stock and for checking it out against invoices. This area should be kept neat and orderly with the cleaning up and removal of packing materials and other clutter done immediately. Waste and other unwanted materials should be disposed of as soon as possible.


Technicians should have properly set up work spaces that allow them to complete their assigned tasks with a minimum of extra steps or excessive bending and reaching. Excess stock should not be kept underfoot or in areas not designated expressly for their storage.
Pharmacy Front End Merchandising Area
While proper inventory control and storage in the medication dispensing area is critical to both safety and health, it's also important for keeping the front retail area looking good and to prevent the occurrence of trip-and-fall accidents.
Aisles should remain uncluttered and free from any excess inventory. Ideally, aisles should be wide enough to accommodate passage of customers going both ways simultaneously without bumping into or crowding each other. Specialized shelving is available that has built-in cupboards on the top or bottom of the shelves, allowing for storage of excess inventory behind closed doors, hidden from view.


Retail floor displays are an important part of product merchandising, but not to the point that there are so many displays that floor areas begin to look cluttered. A useful exercise is to take staff members outside the store and let them walk in the front door as though it was their first ever visit. First impressions are important. If the consensus is that the retail merchandising area appears cluttered

,

some items should be removed or relocated.


The checkout counter is crucial to your store. It

'

s often the location of items designed to generate impulse purchases

,

either on floor displays near the checkout area or on the checkout counter itself. This area needs to remain uncluttered in order to provide customers with adequate space in which to place their purchases and other packages and to write checks or sign credit card receipts.
A cluttered environment may send a negative message to customers that things are slightly chaotic in the store. A little dedicated housekeeping can easily remedy this and should be considered on a regular basis.