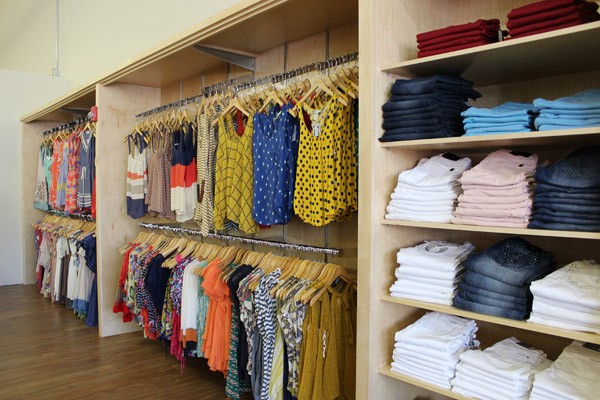 The visual presentation of goods within a retail center is extremely important whether your establishment deals mainly with clothing, home goods, or pharmaceuticals. The truth is that much of what we buy has to do with what we can see and, in many cases, that first impression comes not from the product itself, but from the manner in which it is displayed. The utilization of proper retail display solutions can enhance your business by making the overall look of your store more appealing to a wider audience. Ultimately, for your store to be able to communicate a unique sense of branding to the customers who you rely upon, that branding needs to begin with the manner in which your products are displayed and organized.
One of the biggest mistakes that both retailers and pharmaceutical companies make is thinking of their space like a box; cold and unforgiving. While many cookie cutter stores decide to fill their boxy space with boxy fixtures that are never going to flatter anyone, you have the power to take your retail display solutions into your own hands and order fixtures that will bring more flare to your business. Once you are able to locate a manufacturer that specializes in such solutions, you will see for yourself that the shackles of old style boxy fixtures have been lifted from you.
Some of the things that you should consider when you are looking into some unique retail display solutions could involve the size, shape, color, and flow of the fixtures based on the space that you are working with. For instance, fixtures that have accents involving more natural or green materials such as stone, sustainable wood, recycled materials, or renewable resources like bamboo. It will also be easier to make a statement in your store when you are able to use such exotic materials.
If you have ever walked into a location owned by one of your big box competitors, you might notice that the fixtures there are often very stale looking. In many cases, you will find everything built out of straight lines using composite wood painted white or a simple natural colored wood like oak or pine, and either composite or glass shelves. These sorts of fixtures do not make any kind of statement about a business other than the promotion of a sterile and boring environment.
When you take this notion back to your own business, it will be a lot easier to break the mold and imagine fixtures in unique shapes. Whether they might be ergonomic, geometric, or something totally off the wall accented with use of bold colors, dark grained woods, and other materials, your fixtures can make a real statement about your business. Even if you wanted to stick to fixtures that are more classic looking, you can still customize certain features about them in order to produce a bold contrast that will showcase any merchandise from towels to pill bottles.
Ultimately, if you want your retail display solutions to reflect a stronger sense of branding for your business, you should contact a vendor that can provide complete packages for your company. Whether you are trying to reinvent your fixtures to produce more space and better flow within your store, build a an exciting display for a new product launch, or simply upgrade the outdated fixtures you have, working with true professionals can help to make your business look brand new again. If you believe in the products that you sell, better fixtures will help you to unite them with the public.
Want some ideas for your retail space? Download our FREE ebook!