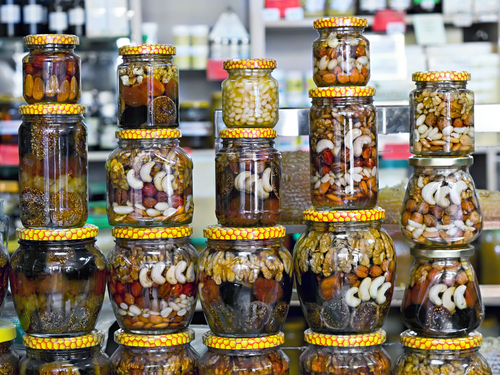 Pharmacy fixtures are useful to you as an independent pharmacist or small retailer in a number of ways. They help you keep your inventory organized, and they can make it possible for you to display and arrange products so that customers will find them visually appealing and can find what they need, easily.
Table display fixtures are unique tools that can help you create a variety of appealing product "exhibits" for the merchandise that you sell. You can use these fixtures in your own pharmacy or small retail business in the following three ways:
Use pharmacy fixtures to display candy and other small merchandise
Whether you're a small retailer or pharmacist, candy is probably a high-volume item for you; table display fixtures can be used to attractively and very visibly present small items like candy, trinkets, and even over-the-counter medications so that customers can easily see and buy these things. Customers often buy small items such as candies or suckers, or bottles over-the-counter pain medication, for example, as last-minute "impulse buys." When you make these items visible and easily available to customers so that they can simply walk by and take what they need on a whim, you'll boost sales.
Use pharmacy fixtures to display newspapers and magazines
Many customers come to independent pharmacies or small retailers to buy just one item. They may, for example, come in to your pharmacy to pick up a prescription, but then may see your display of newspapers and magazines and remember that they need to buy a paper, too. Table display fixtures let you organize newspapers and magazines so that customers are reminded (or enticed) to buy them when they might otherwise overlook them. Again, this is something that can greatly increase profits for you.
You can also use these pharmacy fixtures to hold newspapers and magazines that are made available for customers to read while they wait to have prescriptions filled or to keep an appointment.
Use pharmacy fixtures to display helpful medical or product literature as an independent pharmacist:
On over-the-counter medications, especially those that are high-volume items during particular times of the year
Is it cold or flu season? It's a good idea to include handy, ready to grab literature with information on preventing and treating a cold or the flu, etc., on table displays next to or along with the over-the-counter medications you sell. In addition, you can strategically place literature on medications available only by prescription throughout the store as well. Some of these medications, for example, may circumvent or shorten the duration of a cold or the flu, and customers may find this information valuable, since they'll be informed before their doctors' visits.
On the services you offer
Don't forget to place brochures, pamphlets, or other literature within easy reach that lists and describes your services as an independent pharmacist or small retailer. Customers can take this information with them when they leave and keep it within handy reach for their own convenience. For example, you probably offer free home delivery service for prescriptions, something most retail pharmacies don't do. Make sure customers know about these and other amenities by making this information very visible and accessible to them via brochures, fliers and other literature.