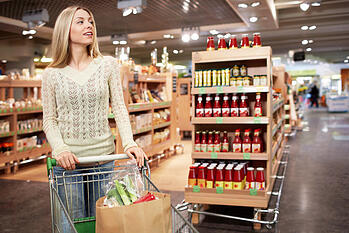 Whatever your particular niche, your retail store must have shelving systems that meet certain standards. The best retail shelving systems can be used in just about any way you wish to help you display your products in an eye-catching, pleasing fashion -- good for your customers, and your success.
Characteristics of the best retail shelving systems:
You can customize them to your decor
Today's retail shelving systems are not the standard "beige and bland" systems of years past. You can customize your systems by choosing a variety of styles and colors that will fit your decor perfectly. Whether you want to choose shelving that blends right in with your decor or provides a visual counterpoint and accent focus is up to you.
You can set them up and break them down quickly and easily
Today's shelving systems are quickly and easily set up and broken down. You're not stuck with a single layout in your store or just one shelving system configuration. Instead, the systems you choose can be changed whenever you need different displays to refresh your look, a different store layout, or to accommodate new products.
They are durable and will last for years
Good quality shelving systems are certainly significant investments for your business, but these are investments that will pay off for years to come. Many of today's shelving systems are made of heavy-duty steel or other equally durable materials, meaning that you can invest once in the shelving you need and then be done. Or, as your business grows, you can add new shelving systems to the display components you already have and inexpensively accommodate your expanding product line; there should be little to no need to bear the expense of having to replace older systems with new. Instead, you can just use everything you've acquired in your shelving "stash" interchangeably, as you need to.
They can help you make the best use of the space you have
Your retail space is precious, and every inch needs to be used to best effect for your customers' benefit. Because shelving systems can be set up in just about every configuration, you can use your space to best effect, with every product optimally displayed but with no overcrowding.
There are certain things you will need to keep in mind so that your displays will give your customers the best and most convenient shopping experience: No shelf in any display should be higher than six feet tall, for example, nor should displays be placed too closely together so that customers feel overwhelmed or have difficulty finding what they need. However, even with these and other similar rules in mind, your shelving can help you make the best use of space. Most of today's systems have shelving that can be adjusted in increments of 2 ", meaning that you can truly configure them to fit your display needs perfectly.
Gondola shelving and its components the end cap and the wall unit can be instantly configured in any area of your store to create perfectly-sized displays for volume products (including new product displays) with no waste of space. Similarly, tabletop displays can show off new, popular, or seasonal items at the front of your store.
Don't forget to use displays both near and in your checkout lanes as well. Displays near the checkout should contain popular items that perform well as "impulse buys" and are part of your regular inventory. The checkout lanes should be stocked with last-minute but common purchases like magazines, gum, candy, or other small items that complement or fit within your product lines.