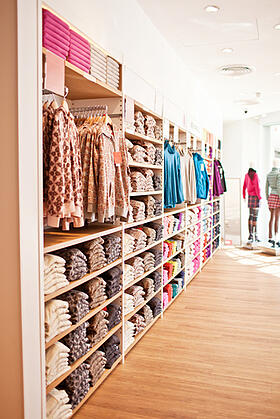 Think of a closet with inadequate or inappropriate shelving, few places to hang clothing, and with contents that are a jumbled mess. How can you even know what you've got, much less see what's attractive and suitable for wear? Impossible, right?
You can face similar challenges with your retail store. You need to make sure your products aren't a "jumbled mess," but instead are both easy for customers to find and attractively showcased so that customers will be drawn to them and will want to buy them. The best way to do this is to make your shelving design work for you so that merchandise is presented both efficiently and attractively.
More than just putting together a few haphazard retail fixtures or putting up some industrial shelving to house your merchandise, proper shelving design actually helps you sell your merchandise by showing it off effectively and making it attractive and enticing to customers.
Properly showcased merchandise is:
This is the first priority on your list for properly showcased merchandise. Above all else, your merchandise has to be organized so the customers can see what you have to sell and can easily find what they're looking for. The endless variety of shelving design options available to you will allow you to set up just the right configuration for every product so that there's no confusion among customers when searching for what they want.
Presented in an attractive and enticing way
Just about any shelving set up available can simply hold your merchandise, but your goal, again, is to showcase your merchandise so that it's enticing and so that customers will want to buy it. If you haven't had a look at what's available to you in shelving design for a while, do some browsing. There are many different materials available today (and in many configurations) that can help you get just the look you want. Investigate fixtures made out of plastic, glass, metal, and/or wood, and choose colors that will complement or accent your decor. Properly showcased, your products can just about sell themselves.
The right lighting and the right retail fixtures can make merchandise displays shift from bland to exciting. Especially for high-end merchandise that needs to be elegantly displayed, proper use of focal lighting and glass and wood shelving, for example, can transform a "bargain basement" display into one that garners both customer attention and top dollar sales.
Your store should also be well lit throughout (with soft indirect lighting rather than the harsh glare of fluorescents if applicable) so customers won't strain to see how your merchandise looks in dim light.
Displayed on fixtures that are modern and not outdated
If your retail store makes deliberate use of "out of date" or old fashioned shelving to convey a certain atmosphere, one that's whimsical and quaint, that can be a plus, particularly if you sell vintage clothing, furniture, or antiques. Vintage-like displays offer a good way to attract customers who are already nostalgic for "old times" because they're in the mood and primed to buy what you sell.
Most retail stores sell modern clothing or products, not vintage. If your merchandise is up-to-date, your retail shelving has to match. Don't use industrial grade shelving or shelving that's chipped, cracked, or otherwise in disrepair. Invest in new retail shelving that's going to bring you into the 21st century. New shelving is also much easier to set up and break down, so that you can use it for an endless variety of configurations, making it a good investment both for today and for years to come.