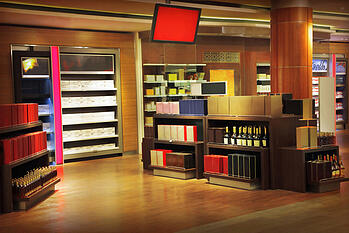 Shelving systems serve a great purpose in that they house merchandise so that it's neat and organized, of course, but they mean so much more to your retail business than that.These systems can truly make or break your retail business, depending on whether you use them right. Why are the right shelving systems so important?
They can present your merchandise in its best light
You can have the best products in the world, but your customers aren't likely to view them as such unless your shelving systems present your merchandise attractively. Tried and true industrial shelving still exists, of course, but now, you can choose shelving that will truly be attractive and will match your decor. Choose from plastics in every color, or from metal, chrome, glass, even wrought iron and real or faux wood. Attractive shelving makes your merchandise more appealing to customers.
They can help you make the sale
Your ultimate goal is to sell merchandise, right? For that to happen, you have to "employ" your systems and use them to help you make the sale. How ?
By in effect "partnering" them with the merchandise. Choose shelving systems that show off your merchandise: Nubby wool sweaters may be served best on rustic shelving with soft indirect light, while elegant (even decadent) cashmere may best be displayed on pristine glass shelving with some soft focal lighting accenting the colors.
They can bring your store into the 21st century
If you sell vintage clothing or antiques, "old" or dated shelving systems may actually blend into your store's unique ambience and enhance an already pleasant shopping experience. However, if you sell modern wares, it's important that you bring your store in the 21st century so that there's no disconnect between the environment you present to customers, and the merchandise you sell. One of the most useful (and easiest) ways you can do this is by updating your shelving systems. Why?
Today's shopper is exceedingly savvy and sophisticated. Old, worn, dated shelving systems can't possibly present your merchandise as attractively and effectively as new, modern… and truly "congruent" shelving systems can. What does "congruent" mean? It means that the shelving you use will either enhance the visual presentation of the products they hold, or blend into the background so that merchandise can shine on its own – but they won't be a distraction. Shabby or dated shelving draws attention away from the merchandise, but new shelving can help you freshen your store's interior effortlessly and improve sales at the same time. When customers know they are stepping into a modern store of the 21st century, they can relax and have a pleasant shopping experience, which will increase their comfort so that they'll stay longer and perhaps even buy more.
They can help you make sure you serve every customer that walks in through the door
The shelving options you choose (and how you arrange your layout) can even increase the number of customers you serve. How? They can help you increase your space, and therefore the amount of merchandise you offer, by stacking merchandise on shelving that is no higher than eye level.
Varying shelving height serves another purpose, too: Chances are, your customers are of every size, and shorter customers may have difficulty reaching higher selves. The appropriate shelving options take this into account by providing shelving for every height: Place merchandise for sale on shelving of various heights, for easy reach no matter what. Because shelving units are so space effective, you can stock merchandise in every size as applicable and still have the space to carry a large inventory.