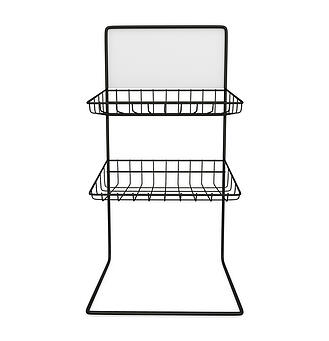 You know about tried and true pharmacy fixtures like gondola shelving to house your merchandise for customers, but you have a lot more options than that. One of the fixtures you may be overlooking is the wire display rack.
These lightweight, strong, durable racks can be used to display merchandise throughout your store. They come in a variety of configurations. You can buy them as freestanding units with or without wheels attached, or you can buy smaller display racks to be used on tabletop displays – or on countertops.
You may be overlooking valuable display "real estate" on your countertops
That's right; one of the most valuable display spaces in your pharmacy is the countertop. If you've left yours bare, you're missing out. Perfectly placed, they can hold a myriad of small items meant to catch your customers' attention – and their dollars. Take a look at how you can use these versatile pharmacy fixtures on your countertops:
1. By the checkout
For small "impulse buy" items
Use these pharmacy fixtures to house small items customers will be enticed to buy on impulse. Candy, gum, magazines, and snacks are just some examples of the types of "quick grab," fun, low-cost items that can be displayed there.
For over-the-counter medications and vitamins
Most of your customers come to you at least on occasion to buy the things they need when they don't feel well, or because they want to stay well. That may include prescription medications as well, of course, but it's always important to make sure that you are well-stocked with over-the-counter medications (NSAIDs, antacids, allergy medications, etc.) and supplements. Place them in their respective departments, of course, but make sure as well to place them in strategic displays throughout the store – including in wire display rack pharmacy fixtures by the checkout. Your customers will thank you, because they won't forget necessary items.
Adhesive bandages, gauze, cotton balls, cotton swabs, and antibacterial ointment are just some examples of first aid needs you should be displaying near the checkout. Again, these are high-volume items that your customers may come specifically to you for; make them easy for your customers to find.
2. By the pharmacy
For reading and informational material
Place wire display racks by the pharmacy and fill them with reading material so that your customers have something to do while they wait. You can of course provide popular magazines, but you can also provide "free" informational pamphlets related to specific medications or health conditions that customers will find useful.
3. Near "rest" areas
It's important to provide strategic seating throughout your store so that customers with physical limitations can take breaks from shopping and rest if they need to. As they rest, you can facilitate the shopping process and make it more convenient for them by providing adjacent countertop wire rack displays of small items they may want or need. Examples: Over-the-counter medications, magazines, shoe laces, and candy.
Don't ignore the empty countertops in your store. Instead, place wire display racks on them and use them as the valuable "real estate" they are; your customers – and your profits – will thank you. These small, versatile pharmacy fixtures fit anywhere and are especially suited for customers' propensity to buy small, high-volume pharmacy necessities like over-the-counter medications or "fun" merchandise like candy, gum, and magazines on impulse.