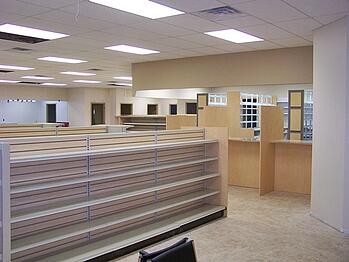 The type of shelving you choose can help ensure your success in business. You need to choose shelving that is sturdy, reusable, customizable, and cost-effective. Shopfittings can help you achieve this goal.
Proper shopfittings help you meet your shelving needs right from the start by involving the experts
Involve your shelving vendor or supplier representative in your buying process early on, before you're actually ready to purchase.

The company should be able to help you figure out what you need based upon:
When you disclose your budget up front, the representative can help you figure out what you must replace now, and what can wait.
The specific types of shelving you'll need to display and store your products on the floor
One example, gondola shelving, is adjustable, very sturdy, comes in a variety of heights, and can be configured in many different ways. It's often the "go to" shelving for many business owners, simply because it can be adjusted to fit for so many storage and display needs.
What you have in stock already in regard to shelving
If it is at all possible, you can use what you already have in your shelving inventory, and simply add to it. Or, you can decide that you want to buy completely new shelving. Depending on your budget, your vendor will be able to help you figure out what you have and what you need.
Whether or not you want to replace everything and start from scratch, or simply add on to your existing stock
You'll save money if you can keep your current gondola shelving and other sturdy shelving that will still provide storage and display options nicely; all you should need to do is add to what you have so that you can expand your storage and display options. If you can't, such as if you are completely remodeling your store so that old pieces simply won't work, your vendor can help you with that too. Ask for ideas on how to choose gondola shelving and other fixtures in the right colors and materials to match your new decor.
What you want your new floor plan to be
If you want to change the configuration of your floor plan, it's easier than you think. Gondola shelving lets you establish a floor plan without actually having to construct stationary structures. All you have to do is to place your gondola shelving in the appropriate layout so that you get the floor plan you want.

You can establish aisles, departments, and a traffic flow plan that keeps customers moving counterclockwise throughout your store. They'll have a much more enjoyable time shopping – but they won't even know that they're being guided. However, doing so will help make sure that customers don't get stuck in any area of the store because they reach a dead-end somewhere, or even be confused as to where they are. The right floor plan guides customers so that they always know where they are, can see every display and its signage clearly, and are enticed by the products and focused on that. They don't have to be distracted by a confusing layout; instead, keep it straightforward.
A proper shopfitting, done with the expert assistance of your shelving supplier, can help ensure that you're choosing the right type and amount of shelving for your current needs. The shelving will display and store your merchandise optimally if you do this. Gondola shelving also allows you to establish a flexible floorplan that you can change whenever you wish -- and that's good for you, your customers, and your profitability.