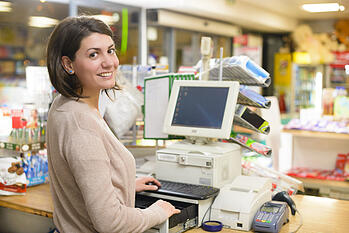 The cash register remains a staple for most businesses at check-out counters. Take a look at this overview of cash register options. What should you choose for your business?
Cash register options: What are they?
If you manage a small retail store, you may want to consider the classic cash register. The classic cash register does not make use of a scanner to enter prices. Instead, you manually enter prices yourself at the check-out counter.
You have the ability to designate an item by department, once you program it into your system. Because of this, classic cash registers let you analyze sales data to see which departments are selling the most.
Advantages and disadvantages of the classic cash register
The classic cash register is an inexpensive option for smaller retailers who don't mind entering in merchandise prices manually, and you can analyze sales data and keep records automatically.
The disadvantage is that errors are more likely when numbers are entered manually versus having prices scanned. There's also no opportunity to track customer behavior (see below) both for your benefit and for theirs.
Modern cash register with point of sale system
Modern cash registers go a step further than the classic cash register. Sales entries are no longer keyed in manually, meaning that errors are greatly reduced. Instead, items are marked with bar codes that the cashiers or employees at check-out counters scan into the system. Each item is given a unique bar code so that when an item is sold, that item is automatically taken out of the store's inventory.
In addition, the modern cash register with a point of sale system is generally connected to an enterprise resource planning (ERP) system. What this means is that managers or owners can reorder seamlessly because the system keeps track of inventory in real time; as an item is sold, the system automatically deducts it from current inventory. It can also track inventory across a franchise or chain of stores, for example, not just one store.
Finally, the modern cash register with a point-of-sale system also allows you, the retail owner, to track customers' purchasing behavior if they buy from you more than once, meaning that you can target them with special deals or promotions to thank them for their loyalty while improving your own sales. With this type of tracking, both you and the customer benefit.
Although these are relatively new and many retailers haven't yet implemented them, the future of retail may be in the self check-out counter, for many business owners. Self check-out counters allow customers to scan items into the system themselves without the assistance of a cashier; they pay with credit card, generally, or sometimes with cash, once the sale is complete.
Self check-out counters have both benefits and disadvantages. Because this is relatively new technology, it's expensive. A self check-out system starts at about $10,000 US. Although this may bode well for your bottom line in the long run -- in that you don't have to pay cashiers to do relatively simple transactions -- it may be cost prohibitive up front. Nonetheless, this may be the future of retail, and something you'll want to consider once these systems become mainstream and the price point goes down.
No matter the size of your business, there's a cost effective cash register option available for your check-out counters. Choose the right one for your business – and stay tuned for new technology developments that may open up even more cost effective options in the near future, as well.