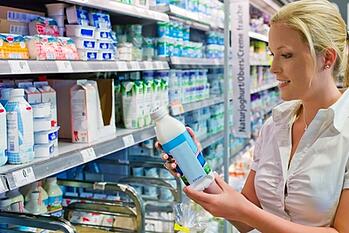 If you already sell food items at your store that don't need refrigeration like candy, gum or chips, you know that they significantly contribute to your profits. But what if you're missing out on a big segment of the market by limiting yourself to room temperature foods? You could entice a whole segment of the consumer population to come to your store that doesn't already, just by selling foods that need refrigeration.
Expand your food offerings, and attract more customers
Refrigerated gondola shelving can significantly expand your product line without much effort.
Refrigerated shelving also increases the number of ways you can sell products, simply by pairing them together: Bread and sandwich meat, snacks and ice cold soda or juice, and milk and cookies.
Attract health conscious customers
Refrigerated gondola shelving allows you to offer more healthful food options, like:
Dairy products
Cheese, milk, and yogurt are favorites of the health conscious consumer. If you don't offer these refreshing products, you might want to consider doing so. Dairy products don't just taste good; they're good for most people, as well, and you'll attract a health-conscious crowd that you might have been missing with nonperishable, less healthful, snacks like chips and cookies. You can also stock up on flavorful dairy-based dips for chips, fruits and vegetables, which will go perfectly with those offerings.
Fresh fruits and vegetables
Serve your health-conscious customers healthy snacks by stocking up on packages of baby carrots, or on "quick grab" fruits like apples and oranges. Offer prepared salads -- chef salad, garden salad, taco salad -- in their own bowls, that can be simply opened and eaten on the spot. Display vegetable dips along with fruits and vegetables in the same case or in your nearby dairy case so your customers can satisfy their hunger quickly and easily.
Offer instant refreshment to hungry, thirsty "travelers"
Cold beverages
Nothing is more attractive to customers on a hot day than a cold beverage. Are you failing to satisfy hot, dusty travelers who are out and about and could use a cold one? Invest in refrigerated gondola shelving and place the case in close proximity to your front door so customers can come in, grab some chips and cold soda, and relaxed before braving the elements once again.
Sandwiches, pastries, and other meal offerings
Refrigerated gondola shelving can also house convenient "grab and go" meals in the form of sandwiches, wraps, or even sushi. Offer dessert in the form of pastries, single serve fruit pies, or puddings. If you're so inclined, you can even offer "bake and go" pizzas, for convenience.
Serve the "not cooking tonight" crowd
Meats
Make your retail establishment a one-stop "quick meal" shop by offering meat products that can be turned into a quick meal at home. Cold cuts and cooked meats, shaved deli meats, hot dogs and sausages can all be kept in a refrigerated gondola shelving unit for customers to purchase and take home so that they don't have to worry about preparing a labor-intensive dinner.
Frozen foods, vegetables and desserts
Round out your selections by offering a frozen section. Ice cream, frozen vegetables, frozen juices, and even frozen meal offerings like microwavable dinners can provide customers a selection of foods with no grocery store stop required. You'll improve profits – and make your customers happy, too.
Consider adding a refrigerated gondola shelving unit (or two) to your retail store if you haven't already. You'll satisfy more customers; indeed, you can cultivate a following of "one-stop shop" customers who will appreciate the convenience. You will make their lives easier, and your business more profitable, instantly.