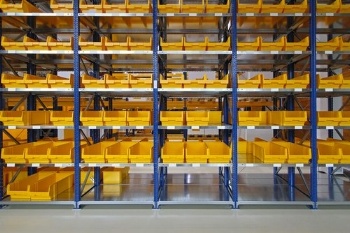 Gondola or retail shelving is great for most display and storage uses in your retail store or pharmacy. It is heavy-duty, sturdy, and can easily be set up and broken down to change your store layout instantly.
Retail shelving can sometimes also be suitable as equipment for warehouse storage, depending on the types of products you are storing. However, a warehouse situation generally requires shelving that's even more heavy-duty than typical gondola shelving.
How is warehouse storage equipment similar to gondola shelving?
Warehouse storage shelving is durable, and usually made of steel beams. It holds large, heavy merchandise – in large, heavy quantities. You use steel beam warehouse storage shelving to store "large" merchandise like appliances, or boxes of small merchandise that nonetheless needs heavy-duty storage options to keep it safe.
These types of shelving units dwarf retail shelving's sturdiness. They're usually more than 20 feet high, unlike the standard six-foot height of gondola shelving, and can literally hold hundreds of heavy boxes or items.
These shelves are also freestanding, just like gondola shelving, making them more sturdy and more durable than wall-mounted shelves. While floors can generally support merchandise safely, the screws that bear the weight of wall mounts cannot.
Gondola shelving is so ubiquitous to the retail industry because it is sturdy and safe. Although retail shelving is easy to set up and break down -- you can change it whenever you want to. Once set up, it is meant to be a "permanent" structure. These shelves cannot simply tip over on consumers who are reaching for a product on an upper shelf, in other words.
Warehouse shelving is durable and safe, too. Collapse could mean damaged merchandise, certainly, but more significantly, it could mean some level of injury should merchandise fall on employees. Just as gondola shelving is sturdy enough to be safe, warehouse shelving, too, won't collapse under the weight of the merchandise it supports.
It makes efficient use of space
Retail shelving can be configured to make the best use of floor space in your particular store set-up. You can use gondola wall units for single-sided access, and/or you can create double-sided islands or runs for even greater efficiency. Both can be set at a six-foot height so that customers can still reach merchandise quite easily, even as you make the most of "vertical space."
Warehouse shelving also lets you make the most efficient use of warehouse space because it allows you to "go vertical" – this time, to a height of 20 feet (with merchandise removal via forklift) rather than just six feet, with gondola shelving.
You can access merchandise easily
Most warehouse shelving utilizes pallet systems that are set up to allow you access to merchandise you need at all times. One of the most common types of pallet systems is the cantilever pallet rack. This system stores merchandise in horizontal rows on "skids" or pallets. These horizontal rows are multilevel, and forklift trucks move the pallets for access as needed. This is a very effective, space efficient storage system.
Gondola shelving is the retail shelving workhorse of the industry and is a central storage and display option for retail stores' sales floors. Its counterpart in the warehouse, warehouse storage shelving, utilizes many of the same principles to create shelving that is extremely sturdy, changeable, and endlessly reusable. While even the sturdiest of gondola shelving may not be the best option for most warehouse storage needs, you can count on the steel beamed heavy-duty shelving used in the warehouse to perform the same functions there as gondola shelving does in the retail shop.