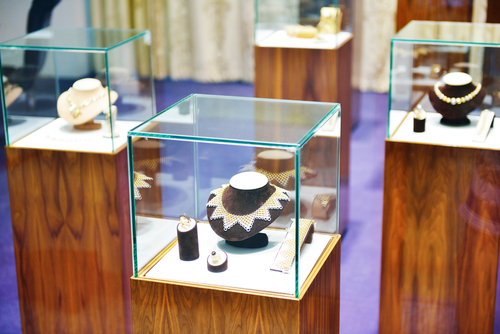 How do you go about picking the best retail display case for your merchandise?
To help you answer that question, consider these:
Do you want simple or high-end retail display cases, or do you need a mix of both?

Will standard display cases do, or will you need secure cases that will showcase valuable items?

How do the retail display cases you're considering fit in with your store's layout?

Are you buying all new retail display cases, or just adding to your existing stock?
Let's take a look at each of these questions in some depth.
Simple versus high-end retail display cases
Display cases are all about enticing customers to buy. Therefore, an enclosed glass display case with focal lighting and an attractive backdrop will work well for high-end items like jewelry; an open display case placed at the end of gondola retail shelving unit on the aisle will work well for simpler items that are bestsellers, staples, or new products that don't require the security or lighting options that glass display cases do.
Non-locking open retail cases versus secure, locking retail display cases
You'll need to choose secure retail display cases that lock for high-value items like jewelry, for protection against theft. These retail display cases will likely be in areas that are closely overseen by personnel.
Simpler open design retail display cases showcase merchandise in an attractive manner so that customers will be drawn to it, but there's no need for high security. Customers can browse and shop at will with no need for close supervision.
If your store sells a mix of valuable and standard merchandise, you'll need both types of retail display cases.
Purchase retail display cases that will fit with store layout
Today's retail shelving and display cases can be set up and broken down easily, so that you can reconfigure your store's layout as you wish. However, if you wish to keep your store's current layout and simply add some new retail display cases to your existing setup, make sure that the cases you purchase will be sized correctly for your current layout. Customer foot traffic through the store should not be impeded and any "crowding" (of customers or merchandise) should be avoided.
"Mix-and-match" new cases with existing retail shelving and display cases, or buy all new
Buying all new
If you're starting from scratch for a fresh, new look, have some fun with it. Choose retail shelving and display cases to fit your decor and your needs; decide whether you want to choose related colors, materials, and styles, or whether a more eclectic mix, with accented pieces, is what you want. An eclectic mix gives you an avant garde, artsy look, while carefully matched is safe and sensible. Both are valid options depending on your situation.
Adding to current pieces
Choose display cases that again will blend right in with your current stock of retail shelving or, alternatively, choose "accent" pieces that provide a visually pleasing counterpoint to your existing shelving and cases.
Choosing the best retail display cases for your store doesn't have to be difficult. You will need secure retail display cases to protect small valuables like jewelry, but you can also choose less expensive but just as athletically pleasing options for merchandise display that doesn't require such security. Either way, choosing the right display cases will make your merchandise more attractive to your customers; that will make them more likely to buy, and improve your profits, as well.