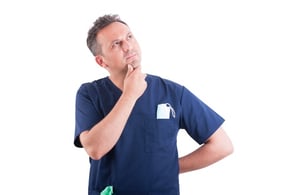 The right pharmacy shelving does more than to just help you organize your products. They can also allow you to showcase products so that customers are drawn to them and enticed to buy. You can use them to display products throughout your store and at the checkout, both for customer convenience and so that you can benefit from customers' propensity to impulse buy.
As an independent pharmacist you have to set yourself apart from your competitors, especially those in retail pharmacy. They may have vast marketing resources, but you provide a personalized touch they can't match. Everything you do adds to or detracts from that – including the shelving you choose.
When it's time to buy new pharmacy shelving, you can have any kind of shelving and fixtures you want – in any material, color and style. Is there a "best" choice? Are custom shelves or metal shelves better? It all depends on what you need. Each type of shelving has distinct advantages.
Custom Millwork Shelving
Shelving made of any material can be customized to your liking, but a major trend in pharmacy shelving right now is custom millwork. Custom millwork can include any item made of wood and produced in a planing mill: door frames, window frames, moldings, doors, blinds, stairs, or shelving.
Using custom shelving gives your store a personalized look that sets you apart as an independent pharmacist. No retail pharmacy can hope to be as unique. Custom millwork, also provides some key benefits:
It's homey and welcoming.

Wood is earthy and naturally beautiful, with no glitz or glamour needed. When customers step into your store, they'll feel welcome and at peace because you are, in a sense, offering them a small glimpse into nature.


It sets you apart from the "sterile" atmosphere of most pharmacies.

Wood reflects an organic, holistic, and natural image. Using it not only shows that you support the standard fare of the traditional pharmacist, but also shows that you focus on health and wellness products that are as aligned with nature as possible. You don't even have to directly advertise that your focus is on natural health and wellness – the atmosphere in your store will reflect that value to customers.


It increases the perceived value of your products.

While you may not change the actual products that are on your pharmacy shelves, incorporating custom millwork shelving may actually increase the perceived value of those products to your customers. The natural reaction to having products displayed on cheap-looking shelving is that the price of those products should also be less expensive. The subconscious thought that "if the shelves are of better quality, then the products on the shelves must also be of better quality" can result in the ability to set more profitable pricing on the products on your pharmacy's shelves.
Metal Shelving
While custom shelving has its benefits, metal shelving comes with unique advantages as well:
It's durable.

High-quality metal shelving can last for years. If you take care of it, it could save you money both in the short term and long term.


It's easy to clean.

Nonporous metal shelving may be especially important to you in the areas of your store and in workspaces where attention to cleanliness and sterility is a must.


It's secure.
Locking pharmacy shelving and fixtures are necessary areas of your store where security is your greatest concern. HIPAA regulations, for example, require that you protect patients' personal health information (PHI) at all times. That includes locking portable devices used to access PHI when they're not in use. Metal is a superior shelving material to use when you need this type of security.
What's the consensus, then? You may actually need both. Metal pharmacy shelving, whether customized or bought from existing inventory, is especially important to you for security, durability, and cleanliness. However, custom shelving can offer you shelving solutions that are unique to you when nothing ready-made fits. Custom millwork shelving gives your pharmacy a welcoming, homey, holistic feel that showcases your devotion to health and wellness and to the comfort of your customers.