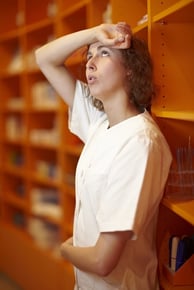 As an independent pharmacist, the shelving you select should do more than just house and display merchandise; it should also support the success of your business by serving specific needs in each of the following areas:
Customer service
Pharmacy workflow
Privacy regulations
Let's take a closer look at each area.
Customer Service
Without your customers, you're not going to succeed for very long. Choose the proper shelving to make your customers' shopping experiences as pleasant as possible. Use the right shelving to:
Direct traffic flow
When customers enter your store, they're generally going to first look left and then walk right. Gondola shelving can provide the basic structure needed to set up your layout without having to do major construction.

Set up your layout so that you construct a central footpath that meanders counterclockwise through your store. The footpath should be wide enough to allow traffic to flow both ways without crowding, and should allow customers to see everything you have to offer from that footpath. Customers can break away as needed to browse specific departments, pick up prescriptions, etc., but then rejoin the footpath to continue through the store easily.


Set up appropriate displays
End caps, tabletop displays, and other types of displays should be set up at store entrances and in every department to make it easy for customers to see and buy high-volume items like cold and flu medications and seasonal items like Halloween candy. While items should be housed in their appropriate departments, shelving and fixtures can also be used to create special displays throughout the store for customers' convenience.


Update your look
Remember that a too-familiar layout with drab shelving and fixtures can cause merchandise to become "invisible" to customers, while changing things out on a regular basis means that customers will always notice what's for sale.
Pharmacy Workflow
Pharmacy workflow has an impact on customer service, too: if your pharmacy workflow isn't as efficient as it could be, your customers end up waiting for their prescriptions longer than necessary. The right shelving in your workspace can mean the difference between success and failure.
Maximize the efficiency of your pharmacy workflow by:
Keeping things organized
Shelving and fixtures should be proper sizes, set at heights and configurations for workstations to keep supplies in easy reach and inventory carefully organized.


Establishing foot traffic patterns
Just as you establish "foot traffic patterns" to improve customers' shopping experiences, so, too, can you establish foot traffic patterns for efficiency in tight workspaces. This will help you avoid bottlenecks and make trips between storage shelving and prescription fill counters as minimal as possible.


Customizing tech stations
Swap the metal fixtures and other out-of-date devices for carousels with a smaller footprint to make the best use of space. Stay organized so that you can store used labels, tickets, and auxiliary items out of sight.
Privacy Regulations
Recently updated HIPAA privacy regulations mean that patient health information (PHI) must be strictly protected. In addition to ensuring privacy protections for tech stations, you must now implement physical safeguards for PHI elsewhere, too.
Secure devices used to store PHI
Portable devices like tablets and laptops need to be kept in pharmacy shelving and fixtures that can be secured.


Centralize workstations
Workstations must now be centralized, with strict login procedures for authentication, and protocols to restrict access.
The right shelving choices can improve customer service by addressing customer comfort and making it easier to shop. It can also improve your pharmacy workflow and help you protect patients' privacy. When shelving supports these efforts, it's a win!