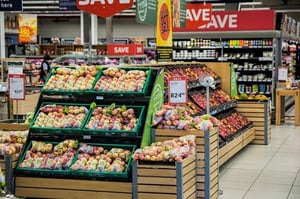 Retail shelving is one of the more underrated components in a store. Though rarely garnering the appreciation it deserves, the right retail store shelving equates to effective retail merchandising and is a big contributor to a business' success. Of course, the flipside is that utilizing the wrong retail shelving and retail wall shelving can majorly undermine your game plan and profits.
Here are five ways that the wrong retail shelving can kill your business:
#1: When your retail shelving wastes your store space
Choosing the right retail shelving involves matching the right-size shelving to the size of your store. Owners of large stores who opt for small retail displays will likely have regrets centered on the fact that customers are passing right by these displays because they're getting lost within all of the store's merchandise. Conversely, if you own/manage a small store and you opt for, say, a huge two-sided gondola instead of a more practical one-sided gondola, you're losing valuable space that could be used for other displays.
#2: When your retail shelving doesn't match your products
Sometimes, too many options leads to bad decisions. For example, nowadays there are innumerable retail shelving types available for store owners: rolling racks, peg boards, G-cut case displays, F-stack displays, dump bins, and many more. But just because these things exist doesn't make them appropriate for all stores. And the same goes for retail display cases. It's not about creating an eclectic mix of displays and cases, it's about matching the retail shelving to your products.
Thus, a dump bin isn't appropriate for a high-end clothing retailer, just like custom-made, expensive shelving isn't necessary for a discount clothier.
#3: When you don't stick to "shelving 101"
There are certain tenets pertaining to retail displays and retail fixtures that must be adhered to, lest your store suffer a lack of customers. We'll call these tenets "shelving 101", a group that includes truisms like having your best-selling products at eye-level, placing your house brand next to the brand leader, merchandising your wares left to right and from premium to economy, and using color block merchandising when possible.
#4: When you don't go the extra mile for your products
Going the extra mile for your products means giving them and your brand their best chance to shine and not settling for second-best. Choose retail store fixtures that are the best match. For example, an antique store's items would benefit from wood or plastic retail display ideas in order to impose a vintage feel. Likewise, a jewelry store's various wares pair ideally with sleek, glass shelving with good lighting.
#5: When your store resembles a labyrinth
When thinking about shelving, you must keep the customers' in-store navigation in mind throughout the planning process. And don't forget about your employees too, who need to always find the right product in a timely manner. A cluttered, confusing layout of shelving, display cases, and fixtures and easily turn-off a customer.
For the latest products, tips, and insights into
retail merchandising services
, contact Shelving Design systems today.