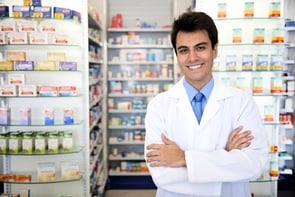 Do you need new pharmacy shelving? You might, especially if your workflow efficiency is slipping.
Some of the hallmarks of a suffering workflow may look like:
Grumbling customers having to wait longer to pick up their prescriptions
You spending less time with your customers because you don't have the spare time to chat
You or your staff making more mistakes between steps
Fewer scripts being filled, and thus lower profits
Why Improved Pharmacy Workflow Means Improved Business
Long waits for prescription fills can create grumpy customers... And grumpy customers often find different places to do business with.
However, an improved workflow results in greater efficiency... and greater efficiency ultimately makes for happier customers. Happy customers mean better business... and better business is great!
As an independent pharmacist, when you're able to maintain a more efficient workflow, it allows you more margin for time to spend engaging one-on-one with customers. These types of connections and community relationships set you apart from other pharmacies and increase the satisfaction of your patients.
Mistakes are Never Just Mistakes
Mistakes aren't just embarrassing; they can be incredibly dangerous as well. Automation technology could remove much of this margin of error, but proper organization will help you avoid mistakes when you must do things by hand. This means you need to purchase the right pharmacy shelving and fixtures for your workspace.
Time is Money for the Independent Pharmacist
The more efficient you are, the less time you'll spend on any given task; that, in turn, improves profits. So, by planning your pharmacy shelving purchases around a carefully optimized workflow, you'll be setting yourself up for better success.
Before your new shelving purchases, review your current activity protocols to discover what needs to be streamlined or even fully redesigned. Then, plan for the right pharmacy shelving purchases you need to make for your most efficient workflow for each specific task.
In the dispensing area and at workstations:
The dispensing area should have properly sized shelving and fixtures of the right height and configuration to ensure that supplies are within easy reach. Inventory should always be neatly, intuitively, and efficiently stored. This makes it easier for you and your technicians to find supplies quickly.

One of the best areas to streamline in order to improve pharmacy workflow is in the repackaging of drugs during prescription fills. It takes about 22 seconds for employees to make "round trips" for single use units and 44 seconds for repackaged units – from the prescription counter and storage for each fill. Become as efficient as possible with your storage by placing it as appropriately close to the prescription fill counters as possible.


At tech stations:
Techs should have their own stations customized just for them with computer touchscreens and color-coded prescription bags. Supplies should be within easy reach; replace standard shelving and fixtures with small footprint carousels to keep inventory organized without taking up much space.

Tech stations should also have proper storage for items like purses so that they can be kept out of reach of other employers and patients. There should also be proper storage for tickets and auxiliary labels. Special doors should hold used labels off the counters to protect patient privacy and adhere to strict privacy HIPAA regulations.
If you haven't reevaluated your pharmacy workflow recently, it's probably past time to do so. New shelving and fixtures can help you improve pharmacy workflow by providing the appropriate storage in the right sizes and configurations for tight spaces. That means happier customers, fewer mistakes, and improved profits for you.