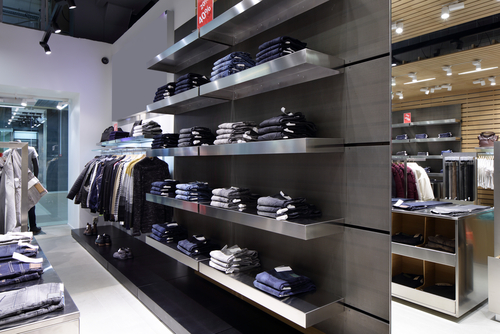 What makes a retail store attractive? Cozy decor? Modern fixtures? Soft, inviting lighting?

All of those things certainly do contribute to your store's attractiveness, but they will do no good at all if your merchandise isn't neat and organized. Disorganization also makes it very difficult for your customers to find what they are looking for.

Fortunately, there's a fix for that. You can keep your merchandise neat and organized with the right retail fixtures and shelving.
Retail shelving and fixtures that can keep merchandise neat and organized
Gondola shelving, which includes the double-sided gondola island, wall unit, and end cap, is the unsung hero of the retail industry. You can configure it into just about any configuration you need for display.
Gondola units can hold just about anything, but they are especially useful for heavy merchandise. Gondola shelving accessories such as slatwalls, baskets, and hooks can help you organize your displays neatly even if you have oddly shaped merchandise or small items that might otherwise get lost in the shuffle.
Slatwalls are versatile like gondola units, but are lighter, sleeker, and more mobile for lighter weight merchandise. Accessories include:
Floating shelves
Floating shelves can be installed anywhere in specialized slots on the slatwall panel at a moment's notice, with no need for brackets in most cases.
Shelf brackets
Floating shelves don't need brackets, but you can use them if you need to use specialized shelving – wood or glass – for high-end merchandise like fine china, jewelry, or fine clothing.
Bins, baskets, faceouts and waterfalls
These accessories make your slatwalls even more versatile. Hang light merchandise like clothing or jewelry for display rather than folding or placing it on a shelf. Bins and baskets let you display oddly shaped but lighter weight merchandise like gum, candy, over-the-counter medications, etc.
Slatwall hooks
Slatwall hooks come in a variety of colors and weights and fit into the same grooves as the slatwall panels do. Lighter duty plastic hooks can display merchandise like belts, ties, or necklaces, while heavy-duty metal hooks can be used to display household needs like hardware or housewares.
Slatted gondola units are the "offspring" of the slatwall and the gondola unit. These retail fixture and shelving creations are sleek and refined like slatwalls and sturdy like the gondola unit, with heavier duty slats and shelving. Reconfigure or change out displays quickly and easily just as you can with the slatwall, and take advantage of the sturdiness and ubiquitous usefulness of the gondola unit – without the gondola unit's stationary and bulky footprint. Other slatted gondola unit benefits:
You can easily maximize space
Make the best use of space by creating freestanding slatwall displays or placing them against the wall. You can also get them on wheels so you can move them wherever you want to without having to break them down and set them up again. They have a small footprint vs. most standard retail fixtures and shelving, so you can set up more displays – and house more lighter weight merchandise – in less space.
Panel grooves let you "mix-and-match" your displays
Maximize display space on these versatile retail fixtures with accessories like hooks, baskets, brackets, shelves, and rails. Create displays that showcase merchandise of different sizes, shapes, weights and materials together. Be creative! There's no need to limit merchandise display options based on size or bulk.
Keep your store space neat and organized with a few simple retail fixture and shelving options. The right mix of heavy-duty and lighter weight choices allow you to create any display you need at any time.