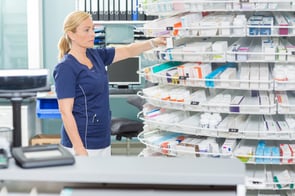 If you're looking for ways to increase your profitability and improve the customer experience in your pharmacy, take a good look at your retail fixtures and shelving. Nearly everything in view inside your pharmacy retail section is being displayed on retail fixtures that can't help but speak volumes about not only the quality of products being offered, but also the quality of care and service you provide. Think about it. What are your retail fixtures telling customers about your store?
What Makes Your Pharmacy Unique?
When you consider some of the things that will help your community-based independent pharmacy stand out from the cookie-cutter, big-box competition, you'll be on your way toward creating business success. Everybody knows what drugstores have for sale, and we've all been in chain store operations that have miles of aisles of products on display in an almost identical fashion as all the other pharmacies in the area.
You best plan should definitely include providing your clientele with the things they won't likely find at those other stores. Chances are this won't involve stocking items your customers can't find elsewhere or cutting your prices to beat out the guys that are buying in huge volumes compared to yours. How you'll likely earn and retain their business includes:
Providing uncompromising, unsurpassed, highly personalized service. Great service sells!
Creating a shopper-centric environment in your store that makes your visitors feel good just being there. There are many ways this strategy can be accomplished.
Utilizing a design and style of retail fixtures and shelves unlike what's typically found in the large chain store pharmacies. You have many shelving and fixture options available that can instantly set the tone of your store as something more.
Shelves and Fixtures are Not One-Size-Fits-All
Standardized gondola shelving is fairly standard fare at most big-name pharmacies, just like linoleum flooring and fluorescent lighting, and the first lesson to learn in outfitting your pharmacy with retail fixtures is not shopping for your shelves and fixtures where they get theirs. You may want to consult a firm that specializes specifically in pharmacy design or, at the least, locate a supplier known for creating distinctive, custom retail fixtures and shelving. While there is a range of uniquely designed and manufactured fixtures available, you may also want to consider custom-made units that can meet the precise requirements of your vision and the individual needs of your business.
Getting Shelving That Fits the Pharmacy
There's no need to settle for generic shelving like just about everybody else uses, just like there's no need to settle for a pharmacy design setup that reminds you of the competition. Straight lines and sharp edges have certainly worked as a shelving design for many years, but we're here to break the mold. Long-favored gondola shelves are now available in a more stylized appearance without that utilitarian straight-lined, sharp-edged look so common in nearly every pharmacy.
A serpentine-style gondola gives a whole new look that's much more pleasing aesthetically than the rigidity of nothing but straight lines as far as the eye can see. Add to these some occasional slat-back or pegboard-backed fixtures, and use plenty of end caps that can give a multi-directional view of what's available that's especially hot. You also needn't settle for stark white metal shelving for your theme—there are plenty of available colors, textures, alternative materials and varying sizes.
Spend some time deciding what style of pharmacy shelving best suits the retail space you want to create. Be unique and build something that will have customers saying, "Isn't this nice?"