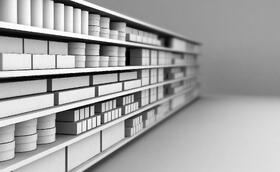 Think about your store's current layout for a minute. Can your customers see everything you have to offer without difficulty as they walk through the store? Do they complain that they can't find what they need? Would you like to make sure customers don't miss anything – a great sale, a hot item, or even just that staple they really need and can't find?
Fortunately, there is a solution for that. And? You shouldn't have to spend anything on it. All it takes is a little planning and reorganization of your retail store displays.
Retail store displays? How can they improve customers' shopping experiences?
It's all in the way you set it up. Retail store displays are ubiquitous to your store, not least because they hold all of your merchandise neatly and efficiently. But there is also a way you can use them to really help boost your sales and make your customers happier, too.
You do this by optimizing foot traffic flow so that customers can see everything you have to offer without even trying. Here's how:
Your retail store display's mainstay – gondola shelving – is also your floor layout mainstay
Sturdy, dependable, trustee gondola shelving looks like a permanent fixture, but it is not. Gondola shelving can be the structure used to create aisles and a "footpath" or traffic path through your store that hits every department, every section, so that customers do not miss a thing.
About the footpath
The footpath should meander counterclockwise throughout your entire store. Your customers should be able to see every department at a glance from that footpath, and you should entice them to come away from that footpath and browse whenever possible.
Freestanding retail store displays like tabletops and wire racks should be placed throughout your entire store
Place them:
Place high-volume or "hot" new items here; customers aren't yet tired of shopping at this point, since they have just arrived. They will be eager to look at whatever you have to offer at this point, so make it count.
Right next to department entrances
Department entrance displays will entice customers to come away from the footpath and to the display itself. From there, they are much more likely to enter the department and look at other things you have to offer.
Right in the middle of long aisles
Unfortunately, customers get "hypnotized" when confronted with long, unbroken aisles of identical product. You can break it by putting retail displays like tabletops displays or wire racks in the middle of long aisles. Customers will see the product(s) on the display – but will also have the focus to actually be able to see what you have to offer in the aisle itself.
You have a lot of great real estate at the ends of most aisles. Blank walls? Use them. Put a tabletop or endcap display here; not only will customers be drawn to the display merchandise, but they will also be able to look left or right and notice other departments (which they will then want to visit) from that vantage point as well.
This is the best place in the store to sell small impulse, "forgotten necessity," and last-minute items. Place retail shelving displays here of needed or last-minute items like cold medication, and "impulse" items like magazines or candy.
There is no need to invest a lot of money in creating an efficient store layout. You can make your customers happy – and boost your own profits too – by using the retail shelving you already have to create "infrastructure" for you.