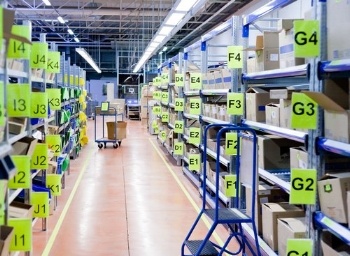 Retail shelving has gone high-tech with racking and shelving in the warehouse. Storage has become an increasing concern: In today's fast-paced world, customers demand quick receipt of merchandise such that it becomes imperative to make storage as efficient as possible.
Modern racking and shelving systems allow for best efficiency because they facilitate better use of space and storage in the following ways:
They let you go vertical
When a particular warehouse's floorspace is full, increase usable space by going vertical. This allows warehouses to store more product and thus reduce turnaround and shipping times. Modern, quick turnaround requires that the pallet rack be durable and utilize carton flow rack, driving rack, pushback rack, and selective rack settings. Lift trucks can damage merchandise, and structural racks resist truck impacts much better than previous versions.
Today, racking columns are made of hot-rolled steel, with horizontal bracing for greater frame durability and strength so that they can handle the extra vertical weight; posts provide protection against fork truck damage.
They increase storage density and efficiency
Drive-in racks make storage more efficient in two ways. They allow for denser storage of goods, and they make it easy for trucks to enter racks' structures to both place and retrieve pallets of goods. Space saver rails make storage configurations more efficient as well, because fewer aisles are needed for access. This increases storage density by up to 75%.
With drive-in systems several levels high AND multiple pallets deep, these retail shelving's' systems prevent damage to goods by using slant back, heavy duty support frames on entry points.
They replace inefficient one-size-fits-all storage with customized storage and picking systems
Rather than a homogenized storage system that utilizes single deep selective rack storage, today's modern warehouse use specialized systems that allow for much more efficient use of space and more rapid order fulfillment at the same time. Pick modules that efficiently store and select merchandise; instead of being replenished by forklifts, large center aisles allow conveyors to carry both incoming and outgoing merchandise for storage and shipment. With storage and packing systems meant to work together, product is more efficiently managed, stored, and removed from shelves for shipment.
They are "intelligent"
Today's modern retail shelving and racking is "intelligent" and increases productivity through the use of specific technologies to cut labor costs. Storage systems are set up with "intelligent design," with quick merchandise retrieval and turnover the key. For that, technologies are used dynamically to keep track of where specific merchandise is stored, and inventory is turned over as quickly as possible rather than held "in bulk" for long periods of time.
They allow for additions and expansion
Today, storage systems are set up to begin at one level and expand over time as more storage capabilities are needed. Flexibility is key. Add-ons and allowances for this type of retail shelving let warehouses spend only what they need to at one time, but to expand as needs grow. While a warehouse may begin with a one tiered system, today's operations are built for flexibility so that second, third, and fourth years can be added as a matter of course with no disruption.
Should you buy used racking?
It is important to make sure that what you buy is suitable for new applications, and it's unlikely that anything used will exactly fit current needs. Thus, it's cost-effective in most cases to buy new and customize from there.
With shorter merchandise storage times, faster turnover, and quick order fulfillment a must, modern warehouse shelving can make merchandise storage and retrieval much more cost effective for you, and improve your bottom line.