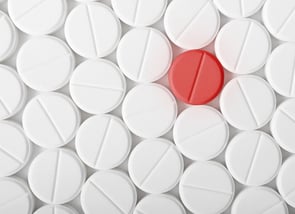 Your independent pharmacy is expected to be a safe, comfortable place where people in your community can come for everything from over-the-counter pain relievers and salves to prescription drugs and expert health advice.
However, big box stores that offer prescription services have affected the perception of many as to what a pharmacy should be. Many people under the age of 30 don't even know what it's like to shop at a real neighborhood pharmacy run by a small business owner who cares about the people who walk through their doors.
Your independent pharmacy's individuality, charm, and unique personality are characteristics that set you apart from the cookie cutter drug counter in the supercenter, and it's what keeps your customers coming back. Make the most of the opportunity to personalize your space and utilize your pharmacy design to showcase that!
5 Tips to Design the Perfect Pharmacy Space to Delight Your Customers
Choose Quality Flooring
When you go into a big box store, you're likely going to see plain linoleum tiles or some other durable, industrial looking flooring. While it might not be the ugliest flooring in the world, it certainly doesn't make you feel right at home.

If you want to stand out from your competitors – and you do need to stand out, if you want to attract and retain customers – consider installing quality flooring as part of your pharmacy design. Hardwood is an excellent option, and so are many durable and inexpensive laminate options. To maximize your design – and your budget – try mixing and matching the quality laminate with unique stone-like slate flooring in smaller featured areas.


Install Custom Shelving
Avoid those pre-fabricated metal shelves the big box stores have and do something more unique in custom millwork, laminate, or harder materials like steel. Installing custom shelving gives your space a more upscale, high-end atmosphere. Merchandise that is displayed on higher quality shelving naturally becomes "innocent by association" and appears to also be of better quality than it would on standard metal shelving. You can even add glass end caps or specialty shelves to make a small space feel larger and more refined.


Lighting Matters
When you walk into a big box drug store, one of the first things you may notice is the lighting. In most cases, all you're going to find is bright fluorescent lighting that isn't flattering to you or the products for sale. Design your pharmacy to avoid that fatal flaw. Use quality lighting fixtures, and if you must use some fluorescents, make sure it isn't the bulk of what is lighting your space. If you're starting from scratch, modern track or recessed lighting is ideal. Use spotlights to highlight featured areas or products and to draw attention to areas of the retail space that may otherwise disappear in shadows.


High-Visibility Signage
Outdoor signage is of obvious importance, but so is your indoor signage. Take time to make your navigational and retail display signage clean, visible, and easy to read even from several feet away. You'll also want to include your logo on some signage throughout your pharmacy design to build brand awareness and positive brand associations.


Incorporate Brand Markers
From color schemes to logos, your customers need to recognize and feel familiar with your brand. Use your brand's color scheme throughout your space and, if possible, make large portions of your space uniquely your own through your use of color.

If you have a logo, strive to make that a prominent part of your store's design by painting it on a wall, putting it on your front window, or using it on movable and promotional signage throughout your store. You'll also want to follow the same color and logo patterns throughout multiple locations if you have more than one pharmacy.
There are many ways to make your pharmacy uniquely yours, whether it's one location, or a multiple store franchise. Incorporate colors, branding, lighting, flooring, and shelving to make a familiar place for your customers to feel comfortable in.