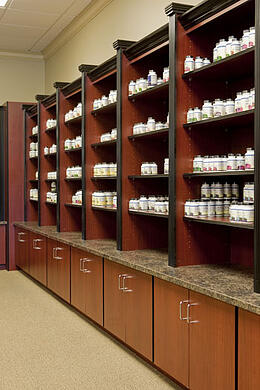 You are probably wondering why your sales are slowing down. What could you possibly be missing? What are the considerations you need to make for a new and modern pharmacy design?
Meeting the Need
The products on your shelf will probably get no attention if there is no concerted effort that describes how they solve a customer's need. Most non-prescription products fall victim to this, where you will notice little to no movement on that category. Hiring a new attendant may not solve the problem, your store needs to be interactive enough to offer the required attention to all the products. Your display and shelving system is in the center of this challenge, consider the following when deciding on an innovative and modern pharmacy shelving systems design:
Are your products shelved in a categories?

Is there ample space between competing brands?

How does the shelving system offer the required contrast to bring the drug packaging to light hence attention? Have you employed any systems to appreciate that?

If you needed more information of a particular product category, is there a summary for the products category available? Does your usage of space on and around your shelving allow for this?
An Outlook of Concern and Relevance
Pharmaceutical Sales are the most detail oriented processes, which are built around your customer's health and productivity, without instilling that confidence in your customers, they will definitely go next door to your competitor. In order to avoid this, the feeling each customer should get when they walk in should be:
The confidence that you have a solution for their need

The feeling that you know all your products

The feeling that you have all the competitive and recommended brands

An environment that focuses on your customer's needs rather that your commercial interests
To instill such sentiments, your display and shelving is once again in the center of the challenge, you need to ensure that the system you use appreciates the constraints that will bring out this appeal in a modern pharmacy design.
Organized and Uncluttered
Using innovative display and shelving products, you can utilize small spaces to appear uncluttered and organized. This is in appreciation of the wide variety of products covered by your establishment, where the increase in competitive brands is slowly cluttering your designs, you cannot possibly cram in another line of products. A poorly organized shelf system will reduce the required attention from your customers, leading to reduced sales.
Safety
A concern for all drug stores is the ability to protect controlled products in a way that does not impede your customers from interacting with them, it seems like meeting both needs may not be possible, but granted an innovative system that instills both attributes, your sales of controlled products may just double. Regional regulation would demand that you maintain control of the distribution of such products, and the secret lies in the display and shelving system that will give you the best of both worlds in a modern pharmacy design.
Your First and Most Crucial Step
Fresh eyes on your establishment will consider all the factors and constraints you need to meet in achieving all your objectives. You need to remember that while you understand your industry completely, you cannot fathom your customer's behavior patterns that affect your sales. You need to keep your focus on meeting their needs other than appearing like a commercial entity. You need a professional consult on the appeal of your establishment, that will encompass a modern pharmacy design that meets all the mentioned constraints.