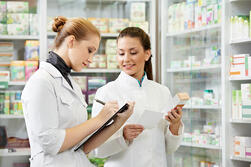 As anyone who runs a small, local pharmacy knows, staying competitive is tough these days, between the big box stores, national pharmacy chains and today's difficult economic conditions, among many other challenges. So how can small pharmacies overcome these hurdles to establish and maintain a vibrant business?
The answer lies in providing better, more personalized service than big corporations can offer. Optimal pharmacy workflow efficiency is crucial to that effort – helping you free up the time it takes to create an exceptional customer experience that outshines the impersonal atmosphere of those big corporate competitors.
Why Optimized Pharmacy Workflow Is Crucial for Small Local Pharmacies
Superior customer service is, of course, the way to build customer loyalty, bringing in the steady business your pharmacy needs to thrive. However, staying profitable means keeping the number of prescriptions you deliver on par – or perhaps even increasing it. So how to balance the need to deliver exceptional customer service with those very necessary productivity goals?
Optimized pharmacy workflow. By streamlining the process by which work gets done, you can reduce the amount of time it takes to fill the same number of prescriptions. That will give you and/or your employees more time to get out from behind the counter and interact with customers, providing the little perks and services that keep them bringing their business to you, rather than those big chain stores.
How To Get There
Of course, small, local pharmacies don't have cookie-cutter layouts and workflow processes like those chain stores do, so solutions for improved pharmacy workflow will differ greatly from one to another. However, there is a rule of thumb that will apply to all: Optimizing the efficiency of pharmacy workflow means running a tight ship in terms of workplace organization.
You need organized, efficient and well-equipped workstations for each step of your workflow process, ensuring that all necessary supplies are within easy reach. Efficient inventory practices are essential to optimal workflow as well, as are convenient and efficient storage solutions for that inventory that are customized to meet the individual needs of your business.
The payoff for your investment of time and money into a more tightly organized work space will come in the form of less wasted time. Prescriptions will be processed more quickly if you and/or your employees don't have to travel to and fro for supplies as often, and when it is necessary to travel for this or that, well-organized storage will cut the time it takes to get it – no searching required.
Of course, there are a lot more steps the average small pharmacy can take to streamline pharmacy workflow, but maximizing workplace organization is a great first step that can produce impressive returns in terms of time saved during the average workday. Every minute shaved off of that behind-the-counter time is a minute that you can spend increasing customer satisfaction – building the close and personal working relationships that lead to that all-important customer loyalty.