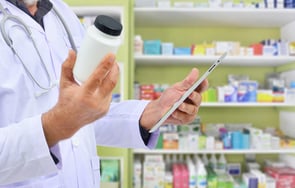 Every pharmacy has some type of established workflow—some more efficient than others and some adopted by default as "just the way we do things." A typical pharmacy workflow system will have four or five steps. The basic steps are usually:
Input
Fill
Verification
Check out
Three of the above steps are usually handled by a pharmacy tech, while the pharmacist typically conducts the verification process. Depending on your pharmacy's prescription fill volume, additional steps may be added to your pharmacy workflow in order to help operations run more smoothly. These may include a dedicated individual for handling insurance matters and a technician in charge of maintaining the will call bin.
It's important to note that, while conducting cross-training among your pharmacy techs is a good idea so an individual doesn't get burned out from performing the same duties day in and day out, each technician should know what their specific duties will be when coming on shift any particular day. This gives techs ownership of their workstation for that shift and makes it easier to uncover responsibility in the event that there's a problem during any specific step of the workflow process.
The Importance of the Will Call Bin
Regardless of the number of steps in your pharmacy workflow system, it's important that a prescription traveling through the process can be easily located if necessary. If your pharmacy software allows for you to place an item in a virtual will call bin, this is the easiest way to organize your workflow and the movement of each prescription being filled.
If, for example, the pharmacist is called away from their prescription verification duties in order to perform some other task, such as a patient consultation or an inoculation, any prescription fills that are being held up at this step in the process could be easily identified by simply looking in the virtual will call bins. If a customer comes in early to pick up a prescription that was either phoned in or transmitted via electronic means, their medicine can be easily located wherever it happens to be in the pipeline and expedited from that point on to minimize this client's wait time.
These examples both refer to orders being placed in virtual will call bins within your computer software program because they're being held up somewhere in the filling process. If an order has been completed but the customer isn't on hand to pick it up right at that moment, it should then be placed in the physical will call bin where it will be categorized, either by a name or a number, awaiting pickup. When the customer arrives for pickup, finding the order within the will call bin should be quick and easy.
Other Uses for Virtual Bins
Coordinating the different workstations with your computer software helps make it easier to organize your workflow. If some type of special circumstance comes up that requires a hold put on a particular fill order, it can be noted by putting that order in a virtual bin with an explanatory notation. If, for example, an order has been input into the system but the required medication is out of stock and must be ordered, the order's status can be found here.
Automated will call management systems are available from a variety of sources, or you can create your own system by using available storage and retrieval supplies. Organized management of your will call system should help make your pharmacy workflow run more smoothly and efficiently.