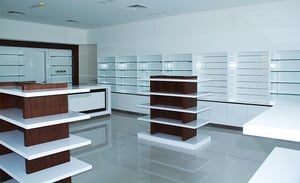 Once upon a time, pharmacies were more than just a place to pick up a prescription at a drive through window. Pharmacies of days gone by featured soda fountains and counters that beckoned patrons to hang around, make friends, and catch up with the neighbors.
Walk into most any pharmacy today, and you'll see that things have changed. Somewhere along the way pharmacy décor became industrial and medicinal feeling. The business that was once a community meeting spot has turned into a quick grab and go location.
However, we're starting to see a change. Many pharmacies are taking the initiative to appeal to a new kind of customer, one that cares about their shopping experience. Soda fountains may be a thing of the past, but the most recent trends in pharmacy design say that warmth and comfort are making a big return.
Pharmacy Shelving Trends for a New, Relaxed Atmosphere
As a general rule, pharmacies aren't the first place someone will go when they feel like doing a little window shopping. Most people that walk through your door are there with a purpose, and the key to maximizing sales is making them temporarily forget about that purpose with merchandising that captures their attention and distracts them, even for just a moment.
For this to happen, a customer needs to feel comfortable and relaxed. Design that includes row after row of boxy, industrial looking pharmacy fixtures doesn't do much for encouraging leisurely browsing.
A big trend we're seeing in pharmacy design is a focus on making the pharmacy environment softer and more inviting. For example, wooden pharmacy fixtures are becoming more popular because they provide a warmer, more boutique feel which is great for encouraging customers to linger and browse.
Shelving That Facilitates the Pharmacy Workflow Process
We've already touched on the importance of the customer experience, but it goes further than just being relaxed and comfortable. Your customers have expectations that include fast, accurate service and a respect for their privacy.
Pharmacies are learning that the best way to adapt to increasing customer demands is by designing a space that compliments the pharmacy workflow process. This includes shelving and fixtures that provide large, accessible work spaces, intuitive design and organization, safety features, and privacy features when communicating with customers about their medical needs.
A Proactive Approach to Customer Safety
Standard industrial shelving and fixtures can pose a risk to the safety of pharmacy customers. When designing a location, it's important to think about why a customer is there in the first place. They want products that are accessible at eye level and don't require bending or reaching to access. Sharp corners and weak shelves can pose a risk to customers who may be holding onto the fixtures for support as they move through the aisles.
It's important that pharmacy fixtures are built with durability and safety in mind. Plus, modern shelving units allow for more merchandise to be displayed and accessible at levels that are most comfortable for customers, and with features that reduce the chance of accident or injury
The Future of Pharmacy Design
If you're in the process of building a new pharmacy location or are ready to update the one you're currently in, quality shelving fixtures can elevate your retail and work spaces. Contact
Shelving Design Systems
today and let's discuss pharmacy solutions including high quality shelving and fixtures for your retail space.