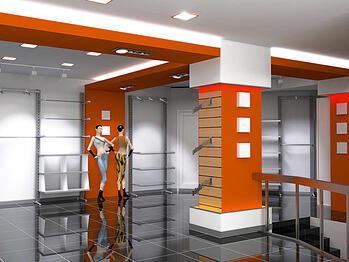 Is your retail space becoming increasingly crowded with standard shelving units? Would you like to give your customers more room to shop – but aren't sure how to go about it without actually increasing your square footage?
Fortunately, you're in luck. There's a way to expand your product display space and still give your customers plenty of room to shop without actually going through the hassle, disruption and expense usually required to expand your square footage. Instead, you can use slatwall panels (slatwalls) and floating shelves whenever possible versus other versatile but "bulkier" shelving options like gondola shelving units, retail shelving, or endcaps, to open up floor space.
Slatwalls
Slatwalls aren't really walls; instead, they are very mobile retail shelving units that are made of thick wire mesh. You can install these on the walls of your retail store, or you can mount them to be freestanding on specially designed legs. Lightweight and mobile, slatwalls let you reconfigure them almost instantly so that you can display items of different sizes as you need to. They are also fully customizable, in that you can choose colors and styles to fit your decor exactly, from ultramodern to classic to anything in between.
The slatwall, as you might guess, has "slats" into which you can slide what are called floating shelves.
Floating shelves
Slatwalls work perfectly with their retail "partners," floating shelves. Floating shelves are called that because you can install them anywhere on a slatwall panel just by sliding them in to the desired slat – no brackets needed. This gives you the ability to change shelf formation instantly, to make room for differently sized products whenever you need to.
How do slat walls and floating shelves improve your retail space?
They're simple and sleek
Slatwalls and floating shelves are simple and sleek, and display your merchandise by melding into the background. There's no worry about having to fret over a design when you use them. You simply put them where you want them, and if you don't like a particular look, you can change it instantly.
They come in a variety of colors, materials, and styles
As with most retail shelving options available to you today, you can buy your slatwall and floating shelves in just about any color, design, or material you choose. You'll be able to "design" your displays without much effort at all, and achieve the effect you want very easily.
They don't take up much floor space
This is perhaps the most significant advantage for slatwalls and floating shelves versus other retail shelving options. You can choose to place slatwalls directly on the walls of your retail establishment, and/or you can opt for freestanding slatwalls that utilize specialized legs. Because of their small footprint, slatwalls and floating shelves allow you to "open up" floor space for your customers. You can give your customers the room they need to move freely so that they'll have a much more enjoyable shopping experience.
You can change display configurations almost instantly
Change shelving configuration or shelving size quickly and easily whenever you need a new display. Just slide out one shelf and replace with another of a different size or color. Change shelf positions immediately to accommodate merchandise of different sizes instantly; there's no need to plan for setting up/breaking down, or to wrestle with reassembly for new displays.
Don't fret if your small retail space is feeling cramped. Versatile slatwalls and floating shelves have small footprints so that you can open up your retail space and give your customers the room they need to shop without sacrificing your merchandise displays.