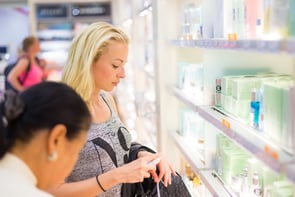 Looking for an easy way to give a much-needed facelift to your store?
New retail shelving can do this – even if you're on a budget.
Plan Your Retail Makeover
When you're planning your retail makeover, there are some key considerations that should come into play.
What can you replace now, and what can wait until later?

Is money tight? You don't have to replace all retail shelving now. Take a look at your current retail shelving and figure out what you can use for a bit longer and what needs to be replaced now. Keep shelving that's in good shape and replace old, rickety, worn-out, or significantly outdated shelving. If you can't replace all of your shelving now, mix and match existing shelving with new shelving for a fresh, eclectic look that's uniquely yours.


Invest in retail shelving for the long term

Retail shelving is meant to be yours for the long haul. This is no "throwaway investment," – rather, it's something that you'll be using for years to come. That means that even if you need to save money in other ways, don't skimp on shelving quality.

Choose solid pieces that you can depend on to store and display merchandise without fearing that you will have to replace again too soon because they aren't solidly made.


Look into new shelving colors, styles, and materials – and new fixtures, too

Today's retail shelving comes in new colors, materials, and styles that you may not have seen previously. You'll probably want to replace some of your old tried-and-true gondola shelving, end caps, and wall units as well as look into different shelving and fixtures that can give you the ability to create entirely new displays. Lightweight slatted gondola units, slat walls, and floating shelves make the best use of small spaces, while wire racks easily create new displays for your merchandise. Accessories like faceouts, bins, baskets, and hooks help you store and display merchandise that can't be displayed to best effect on a shelf.
Redesign Your Layout
Finally, don't forget to update your store layout with your existing and new retail shelving. Gondola shelving can be used to establish your store's layout without having to actually undergo construction to fix that layout in place. Simply reconfigure your gondola shelving layout to establish new aisles, traffic flow, and access to merchandise and displays whenever you wish.
Updated layouts and displays do more than just make your store look nice. They also:
Make a good first impression
Window displays will catch your customers' attention, drawing them into the store. Once inside, entice them to come in further by placing a "hot" product display right at the entrance of the store.
The gondola shelving and other retail fixtures you purchase can create a traffic pattern through your store that will guide customers to the right so that they follow a clockwise path as they shop. They won't miss a single display, and you'll boost profits.
Keep customers' attention
Old, outdated displays become invisible to customers after awhile, so updating your retail shelving and your displays on a regular basis will make sure your customers keep seeing what you have to offer.
What's the single most important thing you can do to give yourself a retail makeover? Buy new retail shelving. Even if you can't do it all once, you can choose new pieces that will complement existing ones and keep your store fresh and modern.