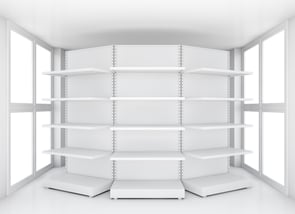 Just about every kind of retail establishment utilizes one or more types of retail shelving, from the most basic to the more elaborate custom-designed units, and each has its own specific place out there in the marketplace. When considering the purchase of retail shelving there are several questions that will be helpful in guiding you toward making the best buying decisions.
What types of items will be displayed on your shelves and other fixtures? Are they heavy or lightweight? Are they small or bulky, moderately priced or expensive in value? Basic shelving may be fine when used in a retail environment, such as an auto parts store or a bargain price food warehouse store, but would certainly seem out of place in a retail environment that caters to those shopping for top-quality items, such as a jewelry store or high-fashion boutique.


What type of specific look or shopping environment are you trying to create? How much floor space do you have at your disposal and are you looking to primarily utilize the central area of your retail space for display shelving, or will you also be highlighting products along perimeter walls? Gondola shelving, which is strong, sturdy and durable, is what is found in most stores, such as grocers, pharmacies, liquor stores, auto parts stores, pet stores, convenience stores and many others. These are considered basic in that they are used in so many retail shelving situations and provide many display advantages:
Often made from heavy-duty metal, gondolas are strong and able to carry substantial loads.
Gondolas are easy to set up and to break down, so they can be moved around when desired.
Gondolas can be used to help create your store's floor plan, used to provide a desired customer foot traffic pattern and make dead-end aisles that have been shown to increase store security by reducing shoplifting opportunities.
Gondolas work well in concert with end caps that can be used to soften the straight-edged look of this type of shelving.
Gondola shelves can be connected to each other to make longer runs, have adjustable shelves to accommodate a variety of sized items, and can be backed by slatwall or pegboard to offer an even wider number of display options.
When to Use Low-Cost Basic Retail Shelving
If you have a store that requires the use of higher-end or custom-designed shelving because of the types of products you sell or the specific motif you're trying to create, that doesn't mean there's no place for lower cost, basic shelving in your shop. In the back room, for example, where excess inventory is stocked, basic shelving is ideal because it won't be seen by customers and can be installed in a tall configuration to provide additional storage space.
Basic shelving can generally be used anywhere it fits in with the basic look of the retail space as long as it doesn't detract from the general impression you're trying to give your customers about your store. Some stores involved in a particularly competitive industry, such as smaller, independent pharmacies, may be on a mission to create a completely unique shopping environment to help them stand apart from their big-box, chain-store competition. In this case, they may want to consider going a step up from basic retail shelving to something more eye-catching that will generate a more emotional appreciation from customers regarding their shopping experience.
Whatever your choice for shelves, spend some time studying options and choose what best fits your vision of what you want your store to be.