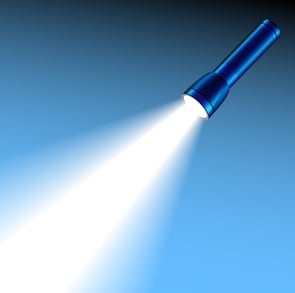 Harsh overhead lighting with a significant glare.
Fluorescent lighting "tubes" that create an uncomfortable, almost indiscernible "buzz" that can literally give your customers a headache
These were the pharmacy lighting options of old, but no more!
Let There Be (Better) Light
Today's pharmacy trends are focusing on pharmacy lighting design and on improving customers' shopping experiences, mood, and even their health.
Replace old-fashioned fluorescent lighting.
Old-fashioned fluorescent lighting is out. Today's lighting options provide soft, gentle light that's just as bright as the unwieldy models of old, but without the glare. While full-spectrum fluorescent lighting has been a favorite replacement for the last several years, newer and longer-lasting options like LED lighting are becoming more cost-effective, both in the short term and in the long term, as time goes on.
The obvious benefit to this upgrade is that it makes your patients and customers more comfortable when they visit you. It makes shopping easier, too, since customers can clearly see what you have to offer without having to squint because of the glare from harsh lighting.
Another equally important factor to consider when upgrading your lighting is its benefits for you. It makes your work more effective and efficient, as it's been shown that poor lighting can contribute to medication errors and make you and your technicians less efficient as you work. It's also been shown that fatigue contributes to medication errors near the end of a shift, and improving lighting can mitigate some of that effect.
Vary the light levels throughout your store.
One of the pharmacy trends in lighting today is "lighting design." What that means is that in addition to replacing old, harsh fluorescent lighting with softer and more energy-efficient lighting, you should also vary the light levels and quality of lighting throughout your pharmacy. This makes interiors more visually interesting, allows you to showcase products, and can help guide customers around your store.
Provide softer lighting near the prescription desk so that customers can relax while they wait. Pair that with strategically placed focused lighting at the desk so that customers can see prescriptions clearly. Highlight special merchandise displays with spotlights and use colored lights to bring attention to special sale displays.
Low color temperature lighting gives your store a warm, inviting look, while high color temperature lighting gives your store a sterile, "cool" look. Sterility is important in an area like a clinical pharmacy; however, your store itself should be warm and inviting.
Bring outdoor lighting indoors.
It's a good idea to simulate outdoor lighting in your pharmacy, especially if you're open after dark. But one of today's pharmacy trends is to truly "bring the outdoors in" by using as much natural outdoor light as possible. Not only is this the ultimate in natural lighting, but it also saves you money because there's no need to "power up" to use it. Additionally, it's been shown that regular exposure to natural light can boost mood. It may even improve health.

You may already have big windows that will let the light shine in. If not, consider remodeling with a focus on providing large windows to the outside strategically throughout the store. If your existing pharmacy space allows it, put in a skylight or two, or install large windows along the upper section of your walls to bring in natural light from above.
You may find that lighting upgrades are as important to your store's atmosphere as getting new pharmacy fixtures and shelving is, since you can positively affect your and your customers' moods and well-being as well as create an more welcoming environment that positively sets you apart.