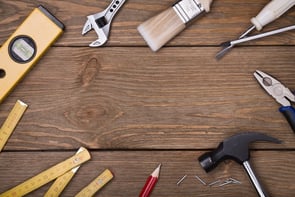 Is it time to remodel your pharmacy?
Here are 5 reasons you might need to consider it.
1) Your pharmacy looks outdated
It may not be obvious to you, but it's important to keep your pharmacy's interior fresh and modern. Make the interior of your pharmacy warm and inviting for your customers. Opt for diffuse lighting instead of glaring overhead fluorescents; replace sterile institutional tile and white walls with homey carpet or wood flooring and soft pastel paint; upgrade bland, institutional pharmacy shelving and fixtures with contemporary designs; and bring the outdoors in with hypoallergenic plants or natural lighting.
2) You need to improve workflow
In addition to making good use of technology to speed up workflow, you can also make sure your employees' workspace is both private and efficient. Erect a privacy wall to separate workspace from customer space so that technicians can work undisturbed, set up tech stations for efficiency, and rearrange or remodel workspaces if necessary so that you have enough room for storage and to establish effective foot traffic patterns.
3) You need to make it easier for your customers to shop
Homey decor, attractive pharmacy shelving and fixtures, and neatly arranged merchandise help your customers have a better shopping experience, but one of the most important things you can do with a remodel is actually make it easier for your customers to shop.
There are three elements to this:
Proper signage
Place proper signage throughout your store so that your customers can easily find what they need. Personalize it with your "brand" so that customers associate it with you.


The right foot traffic path
When your customers enter the pharmacy, they'll first look left, and then go right. You can "help" them shop by adjusting for this natural instinct. Construct a counter-clockwise footrest path through your store that will allow them to see every department and major display at a glance.


Strategic seating
Many of your customers will enjoy being able to sit and rest periodically as they shop; some will be ill, so this is a must. Place seating strategically throughout the store in each department, as well as by the pharmacy counter.
4) You need to make sure you're in compliance with HIPAA regulations
The stricter 2013 HIPAA regulations mean that privacy laws have been tightened, so you must now make sure that any patient health information (PHI) is stringently protected. Your pharmacy remodel should include the aforementioned privacy wall so that patients and customers can't overhear sensitive information. You should also construct your floor layout so that workstations are centralized with strict access protocols put in place as well as invest in locking pharmacy shelving and fixtures to securely store any portable devices that are used to access PHI when they're not in use.
5) You need to bolster safety and security for you, your employees, and your customers
Theft via shoplifting is a problem for most merchants. However, you as an independent pharmacist are in particularly precarious position because you also sell controlled substances. Theft – even armed theft – of highly sought after addictive substances like oxycodone not only means loss for you, but potential danger for you, your customers, and your employees. Remodel as necessary so that prescription fills are done in private, away from customer areas, and controlled substances are locked away from the public at all times.
A pharmacy remodel may seem daunting, but it's worth it. It can give you a fresh new look that attracts customers and helps protect their health and safety, and it can also improve workflow efficiency and keep you in compliance with industry regulations.