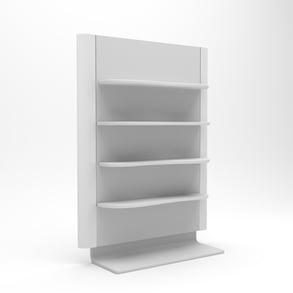 As an independent pharmacist, you serve your customers to the best of your ability. You fill prescriptions for your patients' medications and provide counsel on those medications, true, but at least part of your business probably also deals with selling merchandise.
You already know that how those products are displayed impacts how they sell, so undoubtedly you've made that part of your pharmacy design. But did you know that your displays' shelf width should also be a consideration? Shelf width can actually impact your bottom line. Here's how:
Wider shelving forces you to tie up more money in inventory.
The narrower the shelf, the less product you must have on display to appear fully stocked. Make the best use of precious stockroom space by utilizing "just-in-time" inventory stocking practices.You can keep shelves filled with merchandise so that customers always have what they need – without tying a lot of money up in inventory.


Wider shelving can make you appear to be poorly stocked.
There will certainly be times when you will need to have larger displays of product (for high-volume sellers). However, many of your products may sell at relatively modest volumes. Since it's bad for business for your shelves to appear poorly stocked because you don't have a lot of inventory on hand for the slower moving items, narrower shelves give the visual impression that you consistently have a lot of products on display.

This appearance of "plenty" is a very important part of your pharmacy design, since customers should feel comfortable that you have, and will have, what they need on hand whenever they need it. If they feel like you don't have enough, they'll be tempted to go elsewhere.


Narrower shelving gives you greater flexibility when you have a small floor plan.
Pharmacy floor space is at a premium, so utilizing narrow shelving in your pharmacy design whenever possible gives you greater flexibility with your floor plan. You can stock more of, and different kinds of, products in a smaller amount of space. You'll also ensure that customers have plenty of room to move through your store if shelving and displays take up little space as possible.


Narrower shelving lets you strategically showcase fewer brands.
Narrow shelving gives you the ability to strategically showcase the brands you choose. That means you can be selective with what you sell without appearing to limit customers in their purchases. As long as your shelves are well-stocked, the fact that you carry fewer brands will be less of an issue for customers – and they may not notice at all.


Narrow shelving lets you sell some merchandise even if your focus is on prescribing medications.
Even if you are an apothecary-style pharmacy and focus mostly on prescribing medications, you can still sell some basic merchandise on narrow shelving at the front of your store without crowding your floor space. Your customers will still always need basics like pain relievers (i.e. aspirin and acetaminophen); adhesive bandages, gauze, and other first aid supplies; and cough and cold medications.
Consider ditching wide merchandise shelving in favor of narrow merchandise shelving to boost sales. Narrow merchandise shelving appears to increase the amount of product volume in your displays, so the customers will feel secure in knowing that you have "enough" for their needs. It also lets you make better use of a small floor plan, and can make it possible for you to keep lower inventory volumes on hand.