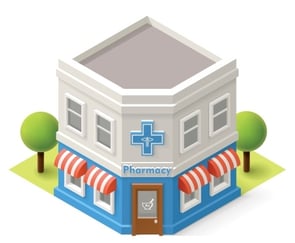 Just bought a pharmacy? Congratulations! Being in business for yourself is exciting, and the opportunity to make the space uniquely yours, especially if it is a pharmacy remodel job, is an adventure in and of itself.
As you plan the layout and budget for designing or renovating your pharmacy design, keep these key areas in mind:
Aesthetics and Comfort
The interior of your pharmacy should be welcoming and inviting. Pay careful attention to the following:
Lighting
Get rid of the harsh glare of traditional florescent lights. Instead, use full-spectrum lighting, which provides a pleasant "daylight" atmosphere that gives customers the ability to see well without the glare. You can also use different lighting levels throughout your store. Accent soft general lighting with spotlighting for special displays and focal lighting by the prescription counter or anywhere that extra lighting may be needed.


Floors and walls
Swap out sterile tile floors with cozier options like wood and carpeting. As you plan out your flooring, it's a good idea to construct a carpeted "footpath" that will guide customers in a route that allows them to see everything for sale as they make their way to the prescription counter. Instead of bland white walls, use soft colors that are pleasing to the eye and invoke a sense of comfort.


Fixtures and shelving
Update old, institutional pharmacy fixtures and shelving with new ones that complement your overall decor. Today's pharmacy fixtures and shelving come in a variety of styles, materials, and colors. If you can't or don't want to replace everything all at once, strategically plan your process for transitioning to new shelving and fixtures that will fit in well with the existing fixtures and shelving you plan to keep.


Seating
Many who come to see you will be disabled or ill in some way. Provide strategic seating throughout your pharmacy so that customers can sit and rest as they shop, or can sit and wait for prescriptions by the pharmacy counter. Consider the view from the seating as well. It is convenient, especially if you are not feeling well, to be able to get everything you need all in one stop. Allow your sitting and waiting customers to have as wide a view of your merchandise from their seats as possible so that they have the opportunity to see and remember additional items that they need to purchase.
Regulations, Security, and Workflow
HIPAA regulations
Stricter HIPAA regulations mean patient privacy is paramount. Make sure you incorporate patient health information (PHI) protections in your pharmacy design. Workstations must be centralized so they can be strictly monitored at all times. Any portable devices used to access PHI must be securely locked away when not in use, and workspaces should be kept separate and private from customer areas. Not only does this allow you and your employees to work in peace, but it also allows you to discuss professional concerns freely without fearing that customers can overhear them, thus violating HIPAA regulations.


Merchandise theft prevention
In addition to the shoplifting worries all retailers face, you must also worry about theft of controlled substances. To help prevent shoplifting, you can construct your layout so that all of your product aisles dead end. Customers must enter and exit from one central location and can only leave your pharmacy through exits that are carefully monitored by video surveillance and employees at all times.


Secure storage and organized shelves
If merchandise is organized at all times, you can tell instantly when something has been taken. Anything purchased can be checked against receipts, which means that any suspicions of shoplifting can be immediately addressed.


Controlled substance theft prevention
Keep controlled substances locked away and not publicly visible, unless they're actually being dispensed. Although this may slow down workflow to some extent, it helps keep you, your employees, and customers safe from armed criminals who could otherwise see you as an easy target with easy access to substances that are in high demand.


Optimized workflow
Construct and organize workspaces and workstations for efficiency. Establish foot traffic patterns as needed in tight spaces to avoid wait times and bottlenecks.
A new, carefully constructed pharmacy design makes your pharmacy uniquely yours and equips you to serve your customers well. Enjoy setting it up just the way you want it, keeping customer comfort, industry regulations, security, and workflow in mind.