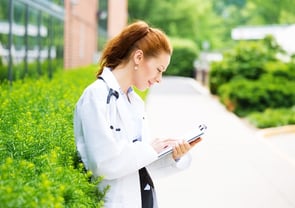 You do everything you can to make your customers and patients comfortable so that their shopping experience is as pleasant and stress-free as possible. However, there's a new trend on the rise in pharmacy design, and it's something that you might even enjoy for yourself as well: Bringing the outdoors in.
Wouldn't your customers love to be able to shop indoors while being in an atmosphere reminiscent of a soothing outdoor day? Many pharmacies are now creating this environment for their customers. Here are some ways you can bring the outdoors into your own pharmacy.
Outdoor light, both natural and simulated

If you don't have much in the way of windows right now, consider remodeling your pharmacy to incorporate large windows and even skylights. Many pharmacies are opting to add windows across the tops of their walls, which provides natural light and a great view of the sky as well as ensures increased security (as opposed to eye-level windows).

If you can't remodel to gain access to more natural lighting, use what you have by removing curtains, blinds, or other coverings from existing windows. Polish them up and let the sunshine in. Another pharmacy trend is to use full-spectrum fluorescent lighting. Full-spectrum fluorescent lighting bathes your store indoors with simulated natural lighting, even when natural lighting isn't available or is in short supply. Simulated lighting can be used in conjunction with natural lighting as needed and is especially useful after the sun has gone down. This is particularly important to your customers' moods when the days are shorter during the darker winter months.


Leafy plants (non-flowering)

Bring nature's serenity indoors by placing green plants throughout your space. This is one of the more popular ways to incorporate the "outdoors-in" pharmacy trend. Plants do more than just enhance visual appeal; they also provide a host of benefits, including adding oxygen to and purifying the air. NASA research has shown that plants can remove up to 87% of volatile organic compounds every 24 hours. Modern climate-controlled buildings trap volatile organic compounds inside, and plants naturally and safely remove them. Just make sure you choose only leafy plants that don't make pollen so that you don't add to allergy miseries.


Organic displays

Incorporate natural materials like pieces of shell, crystal, wood, or the aforementioned greenery into product displays to give them an earthy, natural, and organic aura.


Paint

Freshen your pharmacy's interior with a few coats of paint and use colors inspired by the outdoors. Pale greens, yellows, and blues can provide the backdrop due to their fresh, appealing, and light tint that is reminiscent of grass, sun, and sky. Darker, nature-based colors like woodsy browns and dark greens can be used as accents.


Flooring, shelving, and fixtures

Opt for natural materials as often as you can. Wood (even faux wood) floors, shelving, and fixtures bring nature in, as does natural weave carpeting. Incorporating custom millwork into your shelving creates a warmer, more true-to-nature touch that not only feels more natural, but also makes your merchandise look more upscale.
As the "outdoors-in" trend continues to grow in pharmacy design, its impact shows that it is not only a way to freshen up your pharmacy's appearance; it is also proving to be good business, as customers find the comfortable, inspired-by-nature environment preferable over the cold, sterile designs of big box pharmacies. Providing a pleasant and enjoyable atmosphere for your customers and patients to come to when they are most in need of "feel-good feelings" gives you an added boost of appeal. As an independent pharmacist, this may just be a pharmacy design trend that you want to incorporate.