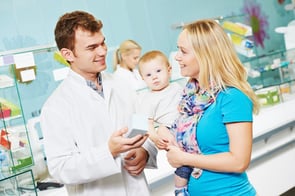 There are many different career paths a practicing pharmacist may take, including:
Community pharmacy
Clinical pharmacy
Hospital pharmacy
Ambulatory care pharmacy
Consulting pharmacy
Hospice pharmacy
Academic pharmacy
...and at least a dozen others.
According to recent statistics, approximately two-thirds of those in the profession are community pharmacists, working in either chain store or grocery-store pharmacies or employed and often owners of an independent retail pharmacy. Typical duties for these community pharmacists include filling prescriptions, counseling clients, guarding against potentially harmful cross-medication interactions, managing drug inventories, supervising pharmacy technicians, resolving insurance and other reimbursement issues and more.
As owner/manager of a retail pharmacy, you likely have a long list of other responsibilities that extend beyond the duties you face in the back-end, prescription-filling section of your drugstore. Although the dispensing of prescription medicines is typically the bread and butter of most pharmacies, many also dedicate a large portion of their store space to the merchandising of non-prescription items as well as a complete line of other products. As owner or manager, you're likely responsible for determining what the store offers for sale and how it should be displayed. As an alternative, you may decide to hire someone to take control over this aspect of the pharmacy.
What's Your Style?
An independent retail pharmacy of today should strive to be a unique entity that sets itself apart from the competition, namely big-box or chain store operations. You need to give your visitors something that brings them in and keeps them coming back. Studies have shown that typical drugstore customers, when given the choice, prefer shopping at an independent pharmacy that places personalized service and a friendly, welcoming ambiance above the impersonal and sterile environment found in most large store operations. A lot of this comes down to "style."
While style may be thought of as the color and lighting schemes you adopt in your store, the shelving, signage and, most importantly, the products you sell and how they're displayed are also tied to the niche into which you want to fit. A veterinary pharmacy, for example, will have an inventory of medications different than a typical community pharmacy and, of course, will be treating a totally different type of patient. Rather than selling canes, crutches and wheelchairs, as many pharmacies do, an animal pharmacy typically sells collars, leashes, pet food, etc.
Specialty Pharmacies
Specialty pharmacies are currently the fastest growing segment of the pharmaceutical industry, and specialty drugs make up more than half the medicines recently approved by the FDA. Specialty pharmacies supply medications that are typically high-cost and prescribed for chronic diseases such as rheumatoid arthritis, hepatitis C, hemophilia and cancer. Unlike typical community pharmacies where customers come to get prescriptions for common medications filled, specialty pharmacies distribute medications that require special storage, special administration, and careful management and monitoring. This all requires unique training and equipment and a specialty pharmacy may be set up differently from a regular drugstore.
The Style Can be Set By a Smile
As an independent community pharmacy druggist or employee, a bright smile and cheery greeting can do wonders to help project the kind of style you're trying to create for your store. Well-stocked shelves and speedy prescription-filling service in the rear end with friendly staff and customer interactions will have your clients coming back for more. If you want your style to appeal to high-quality clients, high-quality shelving, fixtures and product displays will be the style you should go after. If your customers feel comfortable in your store they'll return.