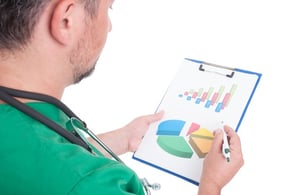 Workflow is one component of pharmacy management that truly does make all the difference. Not only does it benefit you and your staff by making the process more streamlined and efficient, but it also trickles down to create a positive impact on your patients' satisfaction with your service.
You might think your workflow is already at its most efficient, but if you haven't analyzed it recently, it's almost certain not to be. By revisiting your pharmacy's workflow you'll be able to catch and fix any inefficiencies so that you can fill prescriptions faster, improve profits, and keep your customers happy.
Reduce Errors
Firmly established protocols reduce the incidence of errors. If you haven't revisited your pharmacy workflow for a while, it's time to:
Tighten up any protocols that have slipped
Introduce new processes as needed
Incorporate technologies that will improve workflow and accuracy (see below)
Make Good Use of New Technologies
Today, your pharmacy workflow efficiency has access to help and support. If you haven't made good use of new technologies that can keep inventory stocked, help you manage phone calls, and fill prescriptions automatically to reduce error, it's time to incorporate them now.
Interactive voice response (IVR) reduces the amount of time your employees have to spend on the phone, while robotics help technicians fill prescriptions quickly and accurately.
In order to be compliant with new industry guidelines, you must pay careful attention to the new, stricter HIPAA laws that were enacted in 2013. These laws insist that you be more vigilant about patients' privacy than ever. As a result, tech stations and the pharmacy counters should be organized for security, efficiency, and compliance.
Customize tech stations for each technician, with supplies in easy reach and inventory stored intuitively and efficiently.


Color-coded prescription bags, computer touch screens, and small footprint carousels should keep inventory not kept in robots organized.


Tech station drawers should hold personal items (like purses) out of reach of other employees and patients, as well as auxiliary labels and tickets.


Special drawers should hold used labels – which should be kept off of counters – so that HIPAA regulations are observed.


Counting trays and touch screen computers should also be kept off the pharmacist's workstation counter.
Erect a Privacy Wall
If you erect a privacy wall that separates workspace from customer space and can function as double duty for point-of-sale bagging area, you'll solve two problems at once. You and your technicians will have the privacy needed to work undisturbed when you need to, since patients can't see you, which will again improve pharmacy workflow efficiency.
A privacy wall gives you a second benefit as well. Because HIPAA regulations require such strict privacy protections, you'll have no fear of that customers or patients may overhear sensitive information not meant for them as long as you keep all professional discussions between you and your employees behind that wall.
Ensure an Efficient, Tech-Savvy, Compliant Pharmacy
Noncompliance with new industry regulations, lacking new technologies that can make you more efficient and accurate, and failing to revisit and adjust workflow protocols in workspaces can mean inefficient and even illegal workflow practices.
When you analyze pharmacy workflow regularly and make the necessary changes, you'll improve efficiency, improve profits, stay in compliance with industry regulations, and make you and your customers happier too.